Simon & Garfunkel ‎– Old Friends (2004)
Simon & Garfunkel ‎– Old Friends (2004)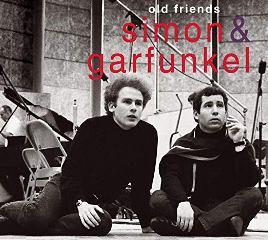 Disc: 1
  1. Bleecker Street
  2. The Sound of Silence
  3. The Sun Is Burning
  4. Wednesday Morning, 3 A.M
  5. He Was My Brother
  6. Sparrow
  7. Peggy-O
  8. Benedictus
  9. Somewhere They Can't Find Me
  10. We've Got a Groovy Thing Going On
  11. Leaves That Are Green
  12. Richard Cory
  13. I Am a Rock
  14. The Sound of Silence
  15. Homeward Bound
  16. Blues Run the Game
  17. Kathy's Song
  18. April Come She Will
  19. Flowers Never Bend with the Rainfall

Disc: 2
  1. Patterns
  2. Cloudy
  3. The Dangling Conversation
  4. Scarborough Fair / Canticle
  5. The 59th Street Bridge Song
  6. For Emily, Whenever I May Find Her
  7. O'clock News / Silent Night
  8. A Hazy Shade of Winter
  9. At the Zoo
  10. A Poem on the Underground Wall
  11. Red Rubber Ball
  12. Blessed
  13. Anji
  14. A Church Is Burning
  15. Fakin' It
  16. Save the Life of My Child
  17. Program Open: America
  18. You Don't Know Where Your Interest Lies
  19. Punky's Dilemma
  20. Comfort and Joy
  21. Star Carol

Disc: 3
  1. Mrs. Robinson
  2. Old Friend / Bookends
  3. Overs
  4. A Most Peculiar Man
  5. Bye Bye Love
  6. The Boxer
  7. Baby Driver
  8. Why Don't You Write Me
  9. Feuilles-O
  10. Keep the Customer Satisfied
  11. So Long, Frank Lloyd Wright
  12. Song for the Asking
  13. Cecilia
  14. El Condor Pasa (If I Could)
  15. Bridge Over Troubled Water
  16. The Only Living Boy in New York
  17. Hey Schoolgirl / Black Slacks
  18. That Silver Haired Daddy of Mine
  19. My Little Town

Warren Bernhardt 	Piano
Art Garfunkel 	Vocals
Jamey Haddad 	Percussion
Jim Keltner 	Drums
Jorge Milchberg 	Arranger, Guitar
Pino Palladino 	Bass, Guitar (Bass)
Larry Saltzman 	Guitar
Rob Schwimmer 	Keyboards, Theremin
Paul Simon 	Guitar, Vocals
Mark Stewart 	Cello, Guitar 

This three-disc collection features 15 previously unreleased tracks including live material, demos, and studio outtakes previously unreleased, alongside a substantial number of the duo's hits. Early demos point up Paul Simon's excellent acoustic guitar fingerpicking and emerging songwriting. "The Sound of Silence" is featured in its original undubbed form and the later overdubbed band version that became the hit. The duo's strongest work is all here, and the addition of several B-sides makes this a helpful collection to have around. --Rob O'Connor, Editorial Reviews
During their brief but remarkable career, Simon and Garfunkel recorded a mere five albums (not counting "The Graduate" soundtrack), and now there are at least as many repackagings of their work. Rather than waste time deciding where each collection overlaps, and which of your favorite tracks are or are not included, your best bet may be to pick up "Old Friends," a handsomely designed three-disc set.
All the major hits are here - "Sound of Silence," "Bridge Over Troubled Water," "Mrs. Robinson," "At the Zoo," "Scarborough Fair," "Cecilia," "I Am A Rock," "Hazy Shade of Winter," "El Condor Pasa," and "The Dangling Conversation," among others - as well as comparatively obscure gems like "Fakin' It" and "The Only Living Boy in New York."
What gives "Old Friends" the edge over other collections is the unreleased live version of "Red Rubber Ball," the Paul Simon composition previously available only in a version by The Cyrcle, and the inclusion of the rarely anthologized "Keep the Customer Satisfied" and Simon's rewrite of Edwin Arlington Robinson's poem "Richard Cory."
The remastered sound is superb, and there's a booklet with an essay and rare photos. In one rather Orwellian move, the cover photo has been airbrushed to remove a cigarette from Simon's left hand, but the Surgeon General isn't mentioned in the credits. ---Brian W. Fairbanks, amazon.ca
download (mp3 @192 kbs):