Kim Wilde - Snapshots (2011)
Kim Wilde - Snapshots (2011)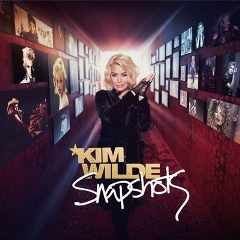 1. "It's Alright"   	Anthony Mortimer 	4:17
2. "In Between Days"   	Robert Smith 	3:06
3. "About You Now"   	Lukasz Gottwald, Cathy Dennis 	3:34
4. "Sleeping Satellite"   	Tasmin Archer, John Beck, John Hughes 	4:09
5. "To France"   	Mike Oldfield 	3:59
6. "A Little Respect"   	Vince Clarke, Andy Bell 	3:22
7. "Remember Me"   	Nickolas Ashford, Valerie Simpson 	3:50
8. "Anyone Who Had a Heart"   	Burt Bacharach, Hal David 	3:50
9. "Wonderful Life"   	Colin Vearncombe 	4:50
10."They Don't Know"   	Kirsty MacColl 	2:38
11."Beautiful Ones"   	Brett Anderson, Richard Oakes 	3:47
12."Just What I Needed"   	Ric Ocasek 	3:45
13."Ever Fallen in Love (With Someone You Shouldn't've)"   	Pete Shelley 	3:15
14."Kooks" (with Hal Fowler) 	David Bowie 	2:53

It's always exciting when a true pop icon, who created so many innovative songs over the years, announces the release of a new album. Kim Wilde did just that in June. The album, Snapshots, offers up Wilde's interpretations of tracks from The Cure, East 17, Erasure, The Cars, The Sugababes and more.
Wilde has for years proven that she knows how to deliver a superb pop track. Her back catalog of hits is quite impressive: "Kids In America", "View From A Bridge", "You Came" and "Never Trust A Stranger", just to name a few. Then there is her history of covering tracks by other artists. Kim has always taken a cover and made it her own. After all, her cover of The Supremes "You Keep Me Hangin' On" was nothing short of remarkable. She took the track, re-worked it and made it sound new. So how does Snapshots hold up against this stellar track record? Well, truth be told, not well.
Snapshots kicks off smashingly, with a cover of East 17′s 1993 single "It's Alright." While it is not groundbreaking, the song does fit Kim like a glove. But it's pretty much all downhill from there. The biggest misstep on Snapshots is her take on Erasure's irresistible "A Little Respect". The emotion that Erasure poured into the song has been replaced with a dull, lifeless vocal.
Nearly everything on this ill fated album was best left in the past. Kim Wilde has never sounded so out of touch with her former self. Let's hope for a more inspired album next time – I know she still has it in her. Snapshots is out August 26, 2011 in Germany, Austria and Switzerland. ---Jared, allureofsound.com
download (mp3 @320 kbs):
yandex 4shared mega mediafire uloz.to cloudmailru uptobox ge.tt
Last Updated (Wednesday, 08 March 2017 12:46)