Barry Manilow – Duets (2011)
Barry Manilow – Duets (2011)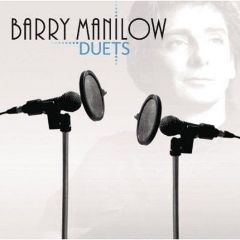 1. You've Got A Friend (With Melissa Manchester) (05:06)
2. Hey Mambo (With Kid Creole And The Coconuts) (02:55)
3. Let Me Be Your Wings (With Debra Byrd) (03:21)
4. Cherish / Windy (With The Association) (04:22)
5. Look To The Rainbow (With Barbara Cook) (04:33)
6. Islands In The Stream (With Reba McEntire) (04:08)
7. Big City Blues (With Mel Torm) (Featuring Gerry Mulligan) (04:15)
8. On A Slow Boat To China (With Bette Midler) (02:32)
9. Run To Me (With Dionne Warwick) (04:37)
10. Summertime (With Diane Schuur) (Featuring Stan Getz) (04:18)
11. Sincerely / Teach Me Tonight (With Phyllis McGuire) (03:20)		play
12. Blue (With Sarah Vaughan) (04:21)						play
13. Now And Forever (With Sheena Easton) (04:13)
14. I Won't Be The One To Let Go (With Barbra Streisand) (04:42)
15. The Last Duet (With Lily Tomlin) (04:02)

Barry Manilow, właśc. Barry Alan Pincus (ur. 17 czerwca 1943 w Nowym Jorku), amerykański piosenkarz i autor tekstów najbardziej znanym z takich nagrań jak I Write the Songs, Mandy, Weekend in New England i Copacabana. Manilow sprzedał ponad 75 milionów płyt na całym świecie. W 1978 pięć jego albumów znalazło się równocześnie na liście bestsellerów; taki sukces osiągnęli tylko Frank Sinatra i Johnny Mathis. Jego single znalazły się na liście Billboard Hot 100, a albumy pokryły się wielokrotnie platyną dzięki czemu został nazwany numerem jeden Radio & Records w kategorii artysta adult contemporary i zdobył American Music Award for Favorite Pop/Rock Male Artist przez trzy kolejne lata (1978, 1979, 1980). Wielu znanych muzyków uznało talent Barry'ego Manilowa, włączając Sinatrę, który w latach 70. widział w nim swego następcę. W 1988 Bob Dylan spotkał Manilowa na przyjęciu, uściskał go i powiedział, "Nie przestawaj robić tego co robisz. Inspirujesz nas." Arsenio Hall przedstawił Barry'ego Manilowa jako swojego ulubionego gościa w The Arsenio Hall Show i poprosił publiczność o szacunek dla jego pracy.
Barry Manilow (born June 17, 1943) is an American singer–songwriter, musician, arranger, producer, conductor, and performer, best known for such recordings as "Could It Be Magic", "Mandy", "Can't Smile Without You", and "Copacabana (At the Copa)."
In 1978, five of his albums were on the best-selling charts simultaneously, a feat equalled only by Frank Sinatra, Michael Jackson, Bruce Springsteen and Johnny Mathis. He has recorded a string of Billboard hit singles and multi-platinum albums that have resulted in his being named Radio & Records number one Adult Contemporary artist and winning three straight American Music Awards for Favorite Pop/Rock Male Artist. Several well-known entertainers have given Manilow their "stamp of approval," including Sinatra, who was quoted in the 1970s regarding Manilow, "He's next." In 1988, Bob Dylan stopped Manilow at a party, hugged him and said, "Don't stop what you're doing, man. We're all inspired by you."
As well as producing and arranging albums for other artists, such as Bette Midler and Dionne Warwick, Manilow has written songs for musicals, films, and commercials. Since February 2005, he had been the headliner at the Las Vegas Hilton, and had performed hundreds of shows before he called time on his 5-year association, performing his last show on December 30, 2009. From March 2010, he has headlined at the Paris Hotel in Las Vegas. He has sold more than 80 million records worldwide.
download:
yandex 4shared mega mediafire zalivalka cloudmailru uplea
Last Updated (Tuesday, 31 May 2016 20:06)