Christina Aguilera - Keeps Gettin Better A Decade Of Hits (2011)
Christina Aguilera - Keeps Gettin Better A Decade Of Hits (2011)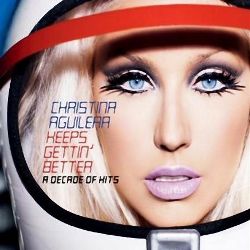 01. Genie In A Bottle
02. What A Girl Wants
03. I Turn To You
04. Come On Over (All I Want Is You)
05. Nobody Wants To Be Lonely (Duet With Ricky Martin)
06. Lady Marmalade				play
07. Dirrty
08. Fighter
09. Beautiful
10. Ain't No Other Man
11. Candyman
12. Hurt
13. Genie 2.0
14. Keeps Gettin' Better
15. Dynamite
16. You Are What You Are (Beautiful)	        play

Keeps Gettin' Better: A Decade of Hits is the first greatest hits album by American recording artist Christina Aguilera. The album was released on November 7, 2008 with the confirmation that a lead single named "Keeps Gettin' Better would be released on September 9th 2008. The single entered the top 10 in the Billboard Hot 100 chart and marked the start of the promotional work for the compilation album. The compilation contains tracks from all of the singer's studio albums released up to 2008: Christina Aguilera (1999), Mi Reflejo (2000), Stripped (2002) and Back to Basics (2006). The album also featured four new additions of which two were revisions of previous singles from Aguilera and two original songs being that of the lead single and a new addition named "Dynamite". New content featured was recorded and produced with Linda Perry. During the production of the compilation album Aguilera stated that the Superhero theme was a recurring one for the new material. She also stated that the new material was a preview of what was to come with a future studio album, the lead single "Keeps Gettin' Better" featured electropop and dance-pop themes which was recurring in her following studio album release, Bionic (2010).
In the United States the album was released exclusively through retailer Target and was later made available digitally in September 2009 with the album release in stores elsewhere on February 2, 2010. Several versions of the album were made available for different regions in addition to a deluxe edition which featured a DVD of her past music videos. Being released only at Target, the album debuted at number 9 in the United States and sold 73,000 copies on the US Billboard 200 in November 2008. It was entered the top 10 and was certified gold in countries as Belgium; Ireland, Japan, Russia and the United Kingdom. The album has sold a total of 440,000 copies in the United States and almost 1 million worldwide.
Keeps Gettin' Better − A Decade of Hits to składanka z największymi przebojami amerykańskiej piosenkarki Christiny Aguilery. Na płycie znalazły się piosenki z albumów: Christina Aguilera (z 1999 roku), Stripped (2002) i Back to Basics (2006), a także dwa nowe utwory: przebojowe "Keeps Gettin' Better" i "Dynamite". Premiera albumu miała miejsce w pierwszej połowie listopada 2008.
Na wydaniu ogólnoświatowym krążka znalazły się wszystkie cztery z singli Aguilery, które osiągnęły pozycję #1 notowania Billboard Hot 100: debiutancki "Genie in a Bottle", "What a Girl Wants", "Come on Over Baby (All I Want Is You)" oraz "Lady Marmalade", nagrany wspólnie z Lil' Kim, Mýą i Pink. Ostatni z utworów nie został uwzględniony na edycji amerykańskiej. Dwa największe przeboje artystki, "Genie in a Bottle" i "Beautiful", zostały zawarte na albumie podwójnie − w wersji oryginalnej oraz jako remiks, nagrany przez Aguilerę specjalnie na składankę. "Genie 2.0" to piosenka o typowo popowej melodii; wokalistka zaprezentowała ją w trakcie 2008 MTV Video Music Awards. "You Are What You Are (Beautiful)" jest utworem zrealizowanym w konwencji muzyki elektronicznej, zwiastującym następny, wydany w 2010 album Aguilery. Na składance znalazły się ponadto dwie zupełnie nowe kompozycje: tytułowe "Keeps Gettin' Better" oraz "Dynamite". Oba są piosenkami electropopowymi, oba także wydano jako single. Sprzedano ponad milion egzemplarzy albumu na całym świecie.
download (mp3 @320 kbs):
yandex 4shared mega mediafire zalivalka cloudmailru uplea ge.tt
Last Updated (Tuesday, 20 September 2016 11:12)