Engelbert Humperdinck - Twelve Great Songs plus Release Me (1967)
Engelbert Humperdinck - Twelve Great Songs plus Release Me (1967)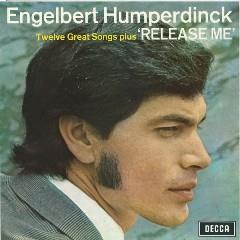 01. Release me (Miller, Williams, Yount, Harris) 
02. Quiet nights (Jobim, Kaye, Lees) 
03. Yours until tomorrow (Goffin, King) 
04. There's a kind of hush (Reed, Stephens) 
05. This is my song (Chaplin) 
06. Misty blue (Montgomery) 

07. Take my heart (Mills) 
08. How near is love (Raymonde, Stellman, Dix) 
09. Walk through this world (Seamons, Savage) 
10. If I were you (Crewe, Rambeau) 
11. Talking love (Scharfenberger, Feltz, Stellman) 
12. My world (Pes, Fontana, Meccia, Mellin) 
13. Ten guitars (Mills)

Directed By:
Charles Blackwell (tracks: A1, A4, A6, B2 to B6)
Johnny Harris (tracks: A3, A5, B1)
Ken Woodman (tracks: B7)
Les Reed (tracks: A2)

This album is essentially a repackaging of Humperdinck's debut LP, intended to cash in on the success of his breakthrough single - the 5 star "Release Me" - that being the hit that launched his career, which - along with "The Last Waltz" a few months later - are the recordings he's best remembered for.
For bored middle-class housewives of the 1960's, Engelbert became the glamourous embodiment of 'tall, dark & handsome' - he projected a suave Mediterannean virility, for all the world looking like some dashing Spanish matador (he was of Anglo-Indian parentage).
And his songs perfectly complemented the image of him being a gentleman at heart - lusty, yet without being too dangerous. And so the music on this album is tailored to cultivate the romantic fantasies of its target market, and as such, it is pure 'product', very effectively performing its function as a manipulative device.
Viewed within that context, the material on this album is very good, but inevitably it has no relevence beyond that, because as 'product' to be consumed, it has no pretensions to being music in any artistic sense - it's strictly entertainment. --bluemoon, alltime-records.com
download (mp3 @320 kbs):
yandex mediafire uloz.to mega 4shared cloudmailru gett