Zejman & Garkumpel - 25 Live. Volume 1 (2014)
Zejman & Garkumpel - 25 Live. Volume 1 (2014)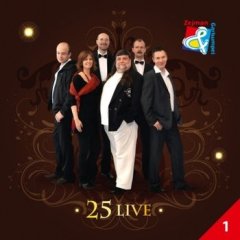 1. Gdy Żurawiem
2. Eine kleine yacht musik
3. Nocne żeglowanie
4. A mój anioł ma…
5. Oceany marzeń
6. Los mój
7. Popłyńmy razem
8. Życie jak ocean
9. 10 w skali Beauforte'a
10. Statek widmo (Stary bryg)
11. Dla Sikora
12. Hej! Obudzę fale
13. Serce po horyzont
14. Odpłynąć stąd
15. Ląd przebudzenia
16. Samantah
+
17. 25 lat Zejmana
18. Czemu żeglujesz
19. Samantha (duet historyczny)

Obecnie zespół Zejman & Garkumpel tworzą:
Mirek "Koval" Kowalewski (wokal, gitara),
Zbyszek Murawski (gitara, wokal),
Monika Szulińska (instrumenty perkusyjne),
Adam Rakowski (gitara basowa),
Tadeusz Melon (instrumenty smyczkowe),
Marcin Lemiszewski (perkusja).
Gościnnie występują z Zejmanem: znakomity akordeonista Jacek Michalak oraz basista Jacek Szuliński.

Jeden z najbardziej popularnych zespołów tzw. polskiego ruchu szantowego.
Od 1985 roku w repertuarze zespołu dominują autorskie kompozycje Mirosława "Kovala" Kowalewskiego i Zbyszka Murawskiego spośród których takie piosenki jak np. "Samantha" weszły do ścisłego kanonu polskich piosenek tego nurtu.
Niemal od początku swojej działalności zespół znany jest również z autorskiego repertuaru dla najmłodszych słuchaczy (np. "Hej, ho, żagle staw", "Roboty po łokcie"), który doczekał się swoistego uhonorowania w postaci publikacji piosenek m. in. w szkolnych podręcznikach.
"Zejman" gra kilkadziesiąt koncertów rocznie, ma na koncie udział w wielu różnych programach radiowych, telewizyjnych, festiwalach i imprezach plenerowych. Dorobek zespołu to także nagranych 12 płyt w ogromnej większości z autorskim repertuarem.
Pierwszy oficjalnie odnotowany występ "Zejmana" – to udział duetu Mirek "Koval" Kowalewski i Roman Wojciechowski, na festiwalu "Złoty Kur" w Ursusie w 1985 roku. 25 lat później, w roku 2010 odbył się niesamowity jubileuszowy koncert, na tych samych deskach sceny Ursusowskiego Ośrodka Kultury "ARSUS". Zaproszone zostało starannie wyselekcjonowane grono przyjaciół(prawie 500 osób) oraz prawie wszyscy obecni i byli członkowie zespołu.
Za podsumowanie tego wydarzenia wystarczy cytat z jednej z zejmanowych piosenek: "Taka noc jak ta dzisiejsza się nie zdarzy" ale słuchać zarejestrowanych, jubileuszowych koncertów można naprawdę bez końca...
Zapis koncertów, które odbyły się z okazji 25-lecia zespołu. Swoiste "Best of" w brawurowych wersjach na żywo. ---empik.com
download (mp3 @192 kbs):
yandex mediafire ulozto solidfiles global.files