Radogost ‎– Dwa Hektary Zywego Lasu (2006)
Radogost ‎– Dwa Hektary Żywego Lasu (2006)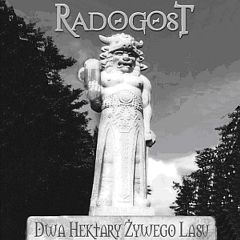 1 	Intro 	01:55
2 	Klnijmy Się Na Słońce 	03:11
3 	Pieśń O Rycerzu Z Czantorii 	03:54
4 	Baba Jaga 	03:51
5 	Ogień żywy Niczym Krew 	05:28
6 	Samotny Taniec Utopca 	04:15
7 	Tam Skąd Pochodzę 	05:02
8 	Kwiat Paproci 	05:05
9 	Czego Szukam 	07:43
10 	Piwny Berserk 	04:35
11 	Wooden Pints (Korpiklaani Cover) 	04:11

Łukasz "Mussi" Muschiol - Guitars (lead), Vocals
Jan "Młody" Musioł - Violin 
Marian Kolondra - Guitars (rhythm)
Łukasz "Goszki" Goszyk - Drums 

Formacja Radogost powstała w 2006 roku z inicjatywy gitarzysty Łukasza Muschiola (twórcy projektu Immemoratus), który przyjął na siebie także rolę pierwszego wokalisty kapeli, oraz perkusisty Łukasza Goszyka. Obaj muzycy znali się już wcześniej z zespołu Anal Fire, jednak tym razem postanowili zerwać ze standardowymi koncepcjami muzyki metalowej i wprowadzić do niej motywy folkowe. W ten sposób do grupy dołączył skrzypek Jan Musioł.
Początkowo zespół zamierzał skupić się jedynie na nagraniu materiału, który miał znaleźć się w Internecie, jednak szybko pojawiły się okazje do zaprezentowania muzyki Radogosta na żywo. Dzięki temu skład został poszerzony o basistę Adama Gluzę, a zespół zaczął koncertować. Okazało się to strzałem w dziesiątkę, ponieważ publika bardzo entuzjastycznie przyjęła kompozycje Radogosta, zaś nieustające pytania o pierwszą długogrającą płytę grupy zmobilizowały członków kapeli do nagrania albumu Dwa hektary żywego lasu, co nastąpiło jeszcze w 2006 roku. ---folkmetal.pl
This demo is more straightforward compared to their other demo which was just a bunch of random recordings basically. The songs are pretty catchy, with some nice vocals, and some violin here and there.
I think what makes this demo so catchy is due to the guy playing the violin. The violin is very catchy and is usually one of the main focal points to the songs. The violin itself flows smoothly throughout the songs. There are a few violin leads in some tracks, but it's usually in the beginning of a few tracks, then the main focus is towards the guitars. The guitarists are about average, the rhythm is generally chugging while the lead is playing a melodic riff over it. There's a lot of acoustic guitar work on the songs. Songs generally start out slow with an acoustic section before picking up faster.
The vocals are almost never focused enough. Now the vocals themselves are generic folk-like grunts, with the occasional female guest vocals. Usually when the female vocals start the music slows down and the attention draws towards here, which I can see why because her voice is pretty calming. Whenever the male vocalist is doing his job, it seems faded into the mix, as in the guitars and violin are louder than he is.
Now the demo generally sounds normal…until the final three tracks come up. The last two minutes of "Czego szukam" are a bunch of random drum beats and the vocalist is just screaming a bunch of what sounds like gibberish in a really high pitch voice. The final track is a Korpiklaani cover, and it sounds like a Korpiklaani song. The track opens up kind of weird; basically you can hear the actual version from Korpiklaani in the background.
The flaws in this are rather basic for a demo, inaudible bass except for the Korpiklaani cover. Drums and vocals aren't mixed that well, but the nice violin makes up for that. Anyways, this is a fairly good demo that fans of Korpiklaani or fans of violin in their metal. ---linkavitch, metal-archives.com
download (mp3 @192 kbs):