Tuff Enuff ‎– Cyborgs Don't Sleep (1996)
Tuff Enuff ‎– Cyborgs Don't Sleep (1996)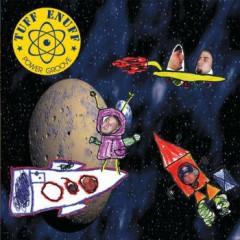 1 	Disco Relax 	4:30
2 	Łot Du Ju Łont For 	2:49
3 	Corrrossion In My Car 	3:25
4 	Naa Banana 	2:39
5 	Ma No Samos Gamines 	4:29
6 	Grass Only 	1:53
7 	Brave Little Toster 	4:42
8 	Tuff Enuff 	2:34
9 	Potato Monster Terror 	2:22
10 	Piosenka Z Filmu O Korkim 	2:07
11 	Wake Up! 	4:37
12 	I'm A Man 	3:12
13 	Dead Point 	3:27
14 	Kovalsky 	3:50
15 	Tecno 	4:45

Bass Guitar, Vocals – Qlos
Drums – Maryan
Guitar, Vocals – Sivy, Ziuta
Vocals – Taracha

Wibrator, sperma, ostrzeżenie o niezrozumiałych tekstach, gołe genitalia i zdjęcie z robienia nowej koafiury. Brzmi jak "scenariusz" świńskiego porno? Nie, to reedycja bardzo przyzwoitej płyty, którą każdy szanujący się fan ciężkich brzmień powinien w swoim życiu przesłuchać przynajmniej raz.
Oglądając książeczkę, patrząc na testy (czyta się je średnio) można odnieść wrażenie, iż ta płyta to po prostu żart. I to z gatunku tych na równi obleśnych, jak i zupełnie zbytecznych. Ale to tylko jedna strona medalu. Druga jest tak, że ten krążek jest po prostu dobry. Przez duże D.
Pierwsze starcie z Tuff Enuff może być solidnym crash testem z rzeczywistością i poglądem na to, jak się powinno grać metal. Bo o ile okładka albumu jest ni żartem, ni obrazą majestatu, tak jego zawartość najzwyczajniej w świecie wali bejzbolem po kolanach. Bardzo ciężkie, klasyczne granie, bez ozdobników, fajerwerków i przymilania się, w połączeniu z wokalem, który nie jest wprawdzie mistrzostwem świata w dziedzinie dykcji i czasami budzi bardzo dobitne skojarzenia z Chrisem Cornellem jest tym, co recenzentka lubi najbardziej.
Tuff Enuff okrasił swój debiut solidną dawką ironii, sarkazmu i olewania autorytetów. The Beatles raczej nie wyraziliby swego uznania i nie klaskaliby uszami po usłyszeniu wystarczająco twardej wersji "Ob-la-di, ob-la-da". Zakładając, że tytuł "Piosenka z filmu o Korkim" by im coś powiedział. Ale wersja tego klasycznego utworu jest wyjątkowo zjadliwa i na swój walnięty, lekko pijacki sposób ciekawa. Nie mam pojęcia ile turboptysi zostało skonsumowanych podczas nagrywania "Cyborgs Don't Sleep", ale na pewno były jakieś przebłyski trzeźwości w studio. Bo takie "Only Grass" składające się z 8 różnych słów na krzyż jest naprawdę ciekawym, wpadającym w ucho kawałkiem. W obu wersjach, zresztą. Ta industrialna dla zmyły została nazwana "Tecno" i faktycznie brzmi nieco jak dicho-bandżo. Ale na zdecydowanie wyższym poziomie, niż impreza ze sztachetami w tle.
Nie ma się co pieścić, ten album, choć nagrany lat temu sporo, właściwie nic nie stracił na swojej świeżości i mocy. I to chyba jest najbardziej zaskakujące. Z jednej strony proste jak konstrukcja cepa młócenie, a z drugiej wszystko czego trzeba (gołe cycki też) w ilości wystarczającej. Tuff Enuff był swoistym objawieniem (Podobno. Ja wówczas biegałam z plecaczkiem do szkoły podstawowej). Koncertowali ze znanymi i lubianymi z rodzimego metalowego świata. Ale nagle wszystko dobrze żarło i zdechło... Na szczęście, o ironio, nic w przyrodzie nie ginie, zespół postanowił się reaktywować i za sprawą Metal Mind wypuścił reedycję. O ile pierwsze wydanie pewnie będzie kosmicznie trudne do zdobycia, tak o nową wersję warto się postarać. Bo pomijając całą ironię, brak powagi i całkowitą nonszalancję bijącą od tego zespołu "Cyborgs Don't Sleep" jest świetnym rozdziałem w książeczce "Historia metalu w Polsce". ---Julia Kata, magazyngitarzysta.pl
If you're looking for the 'next big thing' in metal acts, look no further than Tuff Enuff. The Polish band, featuring Rafał TARACHA Taracha, Tomasz SIVY Biskup, Tomasz ZIUTA Zdebik, Adrian QLOS Kulik and Łukasz LUK Jeleniewski have just released their new album, "Sugar, Death and 222 Imperial Bitches" and are ready to conquer the whole world of metal music. Tuff Enuff mixes groove-laden hardcore/metal with punk and groove metal influences to create awesome, energetic and unique music, which band members and their fans call 'Power Groove'.
The band was formed in 1994 and released their critically-acclaimed debut album, entitled 'Cyborgs Don't Sleep' in 1996. The band started playing sell out shows and their new album has received positive reviews across the Polish music media. Their second album, entitled 'Diabolos Tequilos' was released in 1997. On this album, the band continued with their unique, recognizable style, spicing it up with some Latino-American elements. Both albums gained the band many enthusiastic reviews and loyal, commited fanbase.
To promote both albums, the band played numerous concerts and tours, together with Testament, Fear Factory, Acid Drinkers, Vader, Illusion, Kazik Na Żywo, Flapjack, Blenders, D.R.I., Paradise Lost, among others. They took part in all the biggest festivals in Poland, including Metal Hammer Festival, Odjazdy, Przystanek Woodstock, Juwenalia, Ursynalia. The band members don't take themselves too seriously, therefore their full of energy and humour gigs are unforgettable and the fans always come back for more!
Year 2011 saw the band's comeback in the original line-up. Both albums had been re-released, gaining the band a new, substantial fanbase and more enthusiastic reviews. Tuff Enuff played a tour with illusion and Flapjack in the biggest venues in Poland, and gigged with Lipali, Pro-Pain, Slayer ad Limp Bizkit. Tuff Enuff has been decribed as 'one of the best metal bands on the Polish metal scene' (antyradio.pl) and 'the legend in heavy music' (kinoplay.pl). "Sugar, Death and 222 Imperial Bitches" was mixed and produced by Jacek Miłaszewski. This ambitious project took over three years to finish (the band members currently live in the UK, Ireland and Poland) and not a single track on the album is less than one hundred per cent!
Are your ear drums 'tuff enuff' to tackle the next biggest metal music sensation from Poland? ---reverbnation.com
download (mp3 @320 kbs):