Alters - Mild (2008)
Alters - Mild (2008)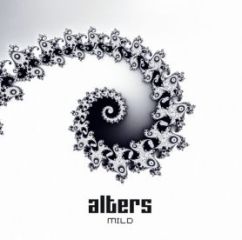 1. Outro [2:28]
2. Psalm [6:51]
3. Farewell [2:34]
4. Paul's Etude [1:00]
5. Nasty Langour [5:07]
6. Michael's Etude [1:02]
7. Calm [4:25]
8. Luka's Etude [0:35]
9. Strange Services [5:25]
10. Robert's Etude [0:31]
11. Dream Bean Blues Bar [5:34]
12. Mnemonic Indiction Of Lucid Dream [13:29]
13. Intro [2:15]

Michał Sołtan - vocal, guitar, grand piano
Paweł Zalewski - synthesizers, viola da gamba, vocal
Łukasz Smoliński - bass guitar
Robert Pludra - drums 

Powiem tak - płyta "Mild" to jedna z moich najtrudniejszych przepraw muzycznych, jakie dane mi było odbyć recenzując muzykę. Panowie z Alters fundują nam taką dawkę dźwięków, że ogarnięcie ich, nawet po kilkunastokrotnym przesłuchaniu krążka wydaje się rzeczą niezwykle ciężką. Nie mogę wprost uwierzyć, ze to dopiero debiut tej formacji, ale aż strach pomyśleć co mogą zaprezentować w przyszłości.
"Mild" to trzynaście kompozycji iście z piekła rodem, i nie chodzi mi tu o przekaz, jak i zapewniam Was, że nie jest to black metal. Te dźwięki mają taki klimat, że osoby o słabszej psychice i lubujące się w melodyjnym graniu powinny porządnie się przygotować do przesłuchania płyty. Wszędobylskie dysonanse, zmiany tempa, zakręcone riffy, wszelakie przeszkadzajki i efekty wypełniają "Mild" i powodują, że album ten posiada bardzo spójny i, nie boję się tego określenia "chory" klimat. Muzycy bawią się dźwiękami, właściwie nie ma dla nich granic, których by nie przekroczyli, jest rock, jest mnóstwo jazzu i grania awangardowego. Chwilami słychać co nieco z King Crimson, czasem gdzieś przemknie Riverside, jeszcze gdzie indziej pobrzmiewa Winds. Dźwięki zawarte w tych kilkudziesięciu minutach to po prostu zabawa, zabawa, do której zaprasza zespół, bo w tym co robią słychać, ze granie sprawia im przyjemność.
To płyta dla osób, które nie boją się eksperymentów, a umysły mają otwarte na wszelkie dźwięki. Debiut Alters to muzyka bardzo trudna, ale przez to i pewnie skierowana do elitarnej grupy ludzi lubujących się w tego typu muzycznych formach. Może i nie jestem do końca odpowiednim odbiorcą tej muzyki, ale muszę przyznać, że potencjał, który tkwi w tej formacji jest przeogromny i myślę, ze możemy być dumni (choć album nie musi się podobać), że w Polsce powstała Taka płyta! ---Piotr "PM" Michalski, rockarea.eu
MILD is a debut album from an underground act ALTERS, released in 2007 by Lynx Music, specialized in releasing polish neo prog bands. Hopefully Alters is quite original in Lynx Music catalogue. MILD contains a modern, complex mix of jazz-rock and psychedelia.
This album is mostly instrumental, occasional vocals emphasize the weird, hypnotic atmosphere of the music. Album starts with Outro (sic!) with some child's voice played backwards. Child's voice also closes the album (track Intro). Alter's music is quite original, although it can be described as a mix of jazz rock that can remind classic bands like King Crimson, Mahavishnu Orchestra or SBB with modern ambient and psychedelia. The most original element of MILD is this weird, hypnotic atmosphere. Many parts of the album sound like live improvisations, which make this album quite complex. However, the album is very absorbing and there's not a single filler. MILD is a debut album on a very high quality level.
Great album, from the end to beginning. ---Pablo_P, progarchives.com
download (mp3 @320 kbs):