2Tm2,3 - Przyjdź (1996)
2Tm2,3 - Przyjdź (1996)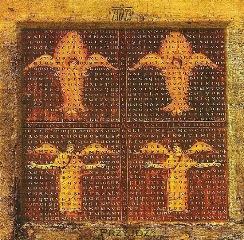 1 	Genesis 	0:42
2 	Marana Tha 	4:52
3 	Jezus Jest Panem 	3:17
4 	Psalm 8 	6:32
5 	Kto Nas Odłączy 	4:49
6 	Kantyk Trzech Młodzieńców 	8:08
7 	Uwiodłeś Mnie Panie 	4:35
8 	Benedictus 	3:48
9 	W Obliczu Aniołów 	6:18
10 	Magnificat 	4:18
11 	Getsemani 	5:35
12 	Słuchaj Izraelu 	4:11

Backing Vocals – Adam (tracks: 3), Angelika (tracks: 12), Kasia (tracks: 12), Lica (tracks: 3), Lori Wallett (tracks: 12), Maleo (tracks: 3)
Bagpipes – Joszko (tracks: 12)
Bass – Marcin (tracks: 2-11)
Bass Drum – Goehs (tracks: 12)
Congas – Dziki (tracks: 8), Stopa (tracks: 7, 8)
Double Bass – Marcin Pospieszalski (tracks: 6, 12)
Drum – Stopa (tracks: 11), Goehs (tracks: 6)
Drums – Stopa (tracks: 2-5, 7-9, 11), Goehs (tracks: 2-5, 7, 8, 10)
Guitar – Lica, Maleo (tracks: 7, 9), Robert (tracks: 9, 10, 12), Budzy* (tracks: 4, 6), Ślimak (tracks: 12)
Horn – Joszko (tracks: 10)
Jew's Harp – Joszko (tracks: 8, 11)
Ocarina – Joszko (tracks: 3)
Percussion – Adam (tracks: 6), Marcin, Stopa (tracks: 6), Ślimak
Piano – Marcin Pospieszalski (tracks: 9)
Rototoms – Lica (tracks: 8), Goehs (tracks: 8)
Tambourine – Adam (tracks: 6)
Viola – Marcin Pospieszalski (tracks: 6)
Vocals – Angelika (tracks: 3), Lica (tracks: 2, 8, 10), Maleo (tracks: 4, 7-9, 11), Budzy (tracks: 3, 4, 6, 8, 12)
Voice – O. Augustyn (tracks: 11)
Woodwind – Joszko Broda (tracks: 2, 3, 12)

Debiutancki album zespołu 2Tm,3. Materiał nagrano i miksowano w studio Deo Recordings w Wiśle. Sesja odbywała się między wrześniem a grudniem 1996 roku. Realizacją zajął się Adam Toczko.
W tekstach utworów wykorzystano fragmenty Księgi Izajasza, Księgi Apokalipsy św. Jana, listów św. Pawła, Księgi Psalmów, Księgi Daniela, listów św. Jana, Pieśni nad Pieśniami, Ewangelii według św. Łukasza, Ewangelii według św. Marka, Księgi Powtórzonego Prawa.
- "Przyjdź" to na pewno jedna z bardziej intrygujących płyt naszego rocka. I jakaś przeciwwaga dla "czarnego" nurtu tej muzyki - pisał Wiesław Królikowski w recenzji dla "Tylko Rocka". - (...) Muzyka jest urozmaicona. Można trafić tu na metalowo-hardcore'owe brzmienia ("Magnificat"; "Getsemani"). A zarazem ta muzyczna wspólnota zahacza o funky ("Benedictus") i korzysta z reggae, co logicznie wynika z muzycznej biografii Malejonka ("W obliczu aniołów"). Nie zabrakło też pozycji o wyraźnie sakralnym klimacie. Inna sprawa, że taki właśnie utwór - "Kantyk trzech młodzieńców w piecu ognistym", śpiewany przez Budzyńskiego - przechodzi w niby-flamenco. Ale już takie podejście ma ten Tymoteusz.
Płyta, jak i działalność zespołu, otrzymały błogosławieństwo papieża, Jana Pawła II. - Znajomy Angeliki dał płytę "Przyjdź" ojcu Ziębie - to taki znany dominikanin, który dobrze zna papieża - opowiadał Maleo na stronach "Tylko Rocka". - Wiem, że Ojciec Święty jej słuchał i podobała mu się - pobłogosławił to, co robimy.
Wydawnictwo otrzymało nominację do Fryderyka w kategorii metalowej. ---http://muzyka.wp.pl
download (mp3 @320 kbs):
yandex mediafire uloz.to cloud.mail.ru gett