Black River - Black 'N' Roll (2009)
Black River - Black 'N' Roll (2009)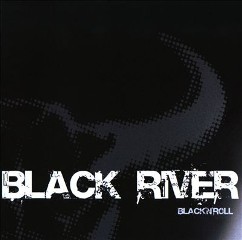 1 	Barf Bag 	
2 	Isabel 	
3 	Lucky In Hell 	
4 	Black'n'Roll 	
5 	Breaking The Wall 	
6 	Jumping Queenny Flash 	
7 	Too Far Away 	
8 	Loaded Weapon 	
9 	Morphine 	
10 	Like A Bitch 	
11 	Young'n'Drunk

Bass, Backing Vocals – Orion
Drums – Daray
Guitar, Backing Vocals – Art, Kay 
Vocals – Taff

"Black'n'Roll" to już druga płyta naszej rodzimej supergrupy. Jeżeli kogoś ominął ich debiut, to niech wie, że w skład Black River wchodzą członkowie grup takich jak Rootwater, Behemoth czy Dimmu Borgir (kiedyś bym powiedział, że Vader, ale Daray ostatnio barwy zmienił). I tak samo jak na debiucie, chłopaki młócą stary, dobry, męski (specjalnie to podkreślam, bo nie jest to mizdrzenie się w stylu Motley Crue) hard rock. Są więc dobre riffy, mocna sekcja rytmiczna, wpadające w ucho refreny i fantastyczny wokal (tak, Maciek Taff odwala tutaj świetną robotę).
Z jednej strony widać, że chłopaki potrafią pokazać pazura ("Isabel", "Too Far Away", tytułowy), a z drugiej mamy też ich bardziej stonowane, liryczne oblicze ("Breaking The Wall", "Morphine"). Muza, mimo że słychać tutaj ducha lat 80-tych, jest bardzo świeża i czuć w niej radość z grania, co zawsze działa pozytywnie na słuchacza. Każdy kawałek to pewny koncertowy hit, przy którym można się świetnie pobawić (wiem, sprawdzałem -Wrocław, W-Z, 30.09). Jak na każdym porządnym rockowym albumie, musiała się tutaj oczywiście znaleźć ballada ("Young'n'Drunk"). Jest ona doskonałym przykładem na umiejętności wokalisty (no muszę tego Maćka wychwalić). Doskonale wpasował się on w zespół, jego głos idealnie pasuje do muzy granej przez Czarną Rzekę. Ciekawostką jest utwór "Jumping Queenny Flash", który jest połączeniem utworów "God Save The Queen" Pistolsów i "Jumpin' Jack Flash" Stonesów. Dość powiedzieć, że ta wersja bije oryginały na głowę (pewnie teraz dla wielu osób jestem bluźniercą, ale to po prostu jest świetny cover). Również produkcja płyty jest wyśmienita - tłusty bas, ostre gitary, a perkusję czuć w żołądku.
Płyta naprawdę świetna, chce się do niej wracać (i to dosyć często), wchodzi do głowy i nie chce wyjść. Po prostu kawał dobrego hardrocka. Kolejny polski zespół z muzyką na światowym poziomie. A jak ich nie zaczną promować porządnie zagranicą, to producenta osobiście ukatrupię. Amen. ---s7mon, metalside.pl
How many Polish extreme metal veterans does it take to make American style mainstream rock awesome? Apparently five (sketchy humor aside), as Polish "supergroup" Black River demonstrates on its sophomore album Black 'N' Roll. At first glance, one might be led to believe that this band's sound reflects that of the other projects its members belong to; members of such black/death giants as Dimmu Borgir and Behemoth add some "star power" to the band's ranks, and the album is entitled Black 'N' Roll (a term some have used to describe recent Satyricon albums). However, the reality is a surprising hard rock-stoner metal hybrid that, oddly enough, sounds closer to American mainstream rock that it does to European extreme metal. Ultimately though, what is most surprising here is that it sounds pretty damn good.
Opening with the questionably titled Barf Bag, Black River makes their love for all things sex, drugs, and rock 'n' roll known, and they aren't afraid to show it. It is almost unimaginable to think that the bassist for this band, Orion (Tomasz Wróblewski), is also the bassist for blackened death giant Behemoth, whose almost philosophical lyrics are written by the University educated Nergal (Adam Darski). Despite the occasional frat-boy sensibilities of the bands lyrics, the music is high-octane, groovy rock that is hard to not enjoy. Songs like Lucky in Hell and Black 'N' Roll have plenty of fat riffs and choruses that beg to be sung. Vocally, singer Maciej Taff uses enough vocal approaches to keep things consistently fresh and appropriate. He's got a big, powerful rasp, which he can adjust to a Danzig like shout or even an Axl Rose croon whenever necessary. Orion's bass is loud and distorted, the drums are groovy and solid, and the guitars are heavily influenced by Southern/stoner metal bands like Down and Corrosion of Conformity (an odd direction for a band from Poland to take, but one that works).
Luckily, the band avoids becoming one dimensional, as many of the mainstream rocks bands coming out of America do. Quick punk anthems (Black 'N' Roll) and slow, dark tracks (Morphine) provide contrast that prevents the album from getting stale as time goes on. As I alluded to before, most of the songs are about causing trouble, getting loaded, and getting lucky, but there is a slight feeling of reservation in some of the lyrics. Young 'N' Drunk sounds like it could have been written by some college band who wants nothing more than to get laid, but in reality it is a much more somber affair than its title would suggest. The lyrics and mood of the song seem to reflect more of a desire to remain youthful when staring down inevitable age than a stage of reckless ignorance; the band members' ages are all around 30, not quite in a stage of worn reservation, but only recently removed from the reckless ways of many young men in their 20s. This is a band that knows their age, but doesn't necessarily need to show it.
For some, this might be a bit too indulgent of an album. These days, that old "sex, drugs, and rock 'n' roll" mantra seems worn and poorly interpreted with most bands that choose to follow it. However, when the riffs and licks are this solid and the hooks are so big, it is easier to overlook the somewhat elementary lyrics. Overall, this is a very entertaining album; the kind of album that sounds best through loud car stereos and open windows. You can't be grim and brutal all of the time, and Black River is an escape from that for its members. Those other bands are phenomenal, but once in awhile, a musician needs to return to his/her meat and potatoes roots, and so does a listener, which makes Black 'N' Roll so sweet. ---Tyler, metalreviews.com
download (mp3 @320 kbs):