Lizard - Spam (2006)
Lizard - Spam (2006)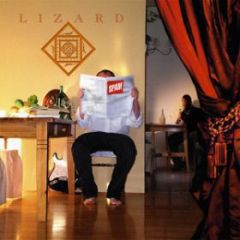 01. Spam #1 (9:18)
02. Spam #2 (8:44)
03. Spam #3 (6:08)
04. Spam #4 (7:36)
05. Spam #5 (8:52)
06. Spam #6 (12:28)

- Damian Bydlinski - vocal, guitar, guitar synthesizers
- Krzysztof Maciejowski - violin & keyboards
- Janusz Tanistra - bass guitar
- Mariusz Szulakowski - drums & percussion

"Czas się podnieść, z łóżka wstać
niech muzyka zacznie grać. (...) "

Do rymowanych tekstów, które nie każdemu się podobają – bielszczanie już nas przyzwyczaili. Kontrowersje wokół Lizard narastały wraz z ilością albumów, jakie zespół sukcesywnie nagrywał. Zarzuca im się kopiowanie stylu UK czy King Crimson, dość specyficzną rymowaną formę liryczną, grafomanię, nierockowy głos wokalisty. Wrogowie zespołu wydają się być nie do przekonania. Ktoś, komu nie podobała się debiutancka płyta zespołu "W galerii czasu", która ukazała się przed dekadą, nie jest adresatem najnowszej produkcji, zatytułownej "Spam". I raczej powinien poprzestać na czytaniu recenzji w tym miejscu, nie będę się starał nikogo nawracać.
Album "Spam" to ... No właśnie. Mamy do czynienia z kolejnym konceptem, ale w którym zespół pokazał swoje pazurki. Znajdziemy w liryce odniesienie do poprzednich 3 produkcji. Spam jest kontynuacją dla trzech poprzednich albumów: "W Galerii Czasu", "Psychopuls" oraz "Opowieści z karczochowego lasu" (org: "Tales from the Artichoke Wood"). To także zamknięcie pewnego przedziału historii zespołu. Mamy wspaniałe rozwinięcie bardzo udanym i gorąco przyjętym debiutem, chwilę niecierpliwości tykającego nerwu na dość trudnym drugim albumie Psychopuls, psychotroniczny pejzaż abstrakcjonistów w Karczochowym lesie, na koniec zostajemy zasypani spamem, niechcianymi przesyłkami. Ów Spam to najdojrzalsza produkcja zespołu. Zaskakuje ostra liryka i mocne ostre brzmienie gitar, dalekie od łagodnego "Autoportretu" a bliskie zapomnianej już serii "Bez Litości", która formalnie nie była wydana Bez Litości I ukazała się na oficjalnym bootlegu – zarówno w wydaniu Vertical (album ukazał się przy pomocy fanów) jak i metalmindowskim wznowieniu, "Bez Litości II" - najbardziej kontrowersyjne lirycznie dzieło zespołu dane było słyszeć tylko na koncertach. I chyba tego nie mogę zespołowi wybaczyć. Ale w SPAM powraca klimat suity. Ostre, dające do myślenia teksty, bezprecedensowa aranżacja oraz mistrzowsko zrealizowana produkcja. Cóż można więcej napisać o płycie, która ma szansę być najlepszą tegoroczną polską produkcją. Troszkę ponadczasowe troszkę jednak sentymentalne brzmienie, nadal bliskie stylistyce UK i KC oraz niedalekie od debiutu – co by zespół się nie zarzekał. Do tego należy doliczyć świetną grę Krzyśka Maciejowskiego, odpowiedzialnego także za realizację albumu. Urzekające skrzypce w stylu Eddiego Jobsona na UK oraz tło klawiszowe, które w dłuższych partiach solowych są po prostu perfekcyjne. Tak, jestem uzależniony od tego brzmienia, tak – jestem zagorzałym fanem skrzypiec (oj znam trud i piękno gry na tym instrumencie), UK, KC oraz produkcji bielszczan. Dlatego ciężko mi jest pominąć ten charakterystyczny i dość istotny element muzyki aktualnego wcielenia Lizard.
Co do samych kompozycji. Utwory nie mają specyficznych tytułów, ale to tylko przykrywka dla zawartości. Długość kompozycji jest wymowna, zawartość .. fani zespołu nie będą zawiedzeni. Z deczka floydowskie wstawki, podkreślone mocnym choć momentami monotonnym i solidnym głosem Damiana, którego czasami brakowało w Opowieściach. I tu jest także zmiana in-plus dla albumu. Muzyka nie zawiera nic odkrywczego, ale za to świetnie przygotowaną partię materiału, która jest wizytówką stylistyki całego rocka progresywnego lat 70-tych. Charakterystyczna gra Mariusza Szulakowskiego, łącząca perkusję elektroniczną z żywym graniem, współgrająca z nią linia basu Janusza Tanistry, miejscami ostra jak żyletka gitara Damiana i wspomniane elektryczne skrzypce oraz klawisze Krzyśka Maciejowskiego. I tu chyba zatarła się ponadczasowość brzmienia Lizard. W końcu da się skojarzyć zespół z pewnym okresem, coś co było trudne na poprzednich produkcjach tu staje się wyraźne – mówimy o brzmieniu lat 70-tych, które aktualnie przeżywa swoisty renesans, głównie przez specyficzną grę gitar.
Wydaje się, że na jakiś czas to ostatnia produkcja zespołu. Ale wcale nie znaczy że go nie zobaczymy ani nie usłyszymy. Nie będę już pisał swoich pochwał dla ostatniej produkcji zespołu. Jest udana, jak przystało na muzyków mistrzowska i daleka od trendów, ale właśnie taka, jakiej oczekiwało się po muzykach spod znaku jaszczura. Po prostu perfekcyjna.
"(...)jedno słowo może być wstępem do złej gry
jedno słowo może mieć połamany rytm
jedno słowo może dać powód czynom złym (...)" --- artrock.pl
LIZARD are one of those bands that i'd be a lot bigger fan of if they we're strictly all instrumental.The vocals are in Polish and unfortunately really take away from my enjoyment of the music. It is a disappointment because I really like their style as they have a KING CRIMSON flavour with violin and it can be quite dark at times.
"Spam # 1" opens with spoken vocals then it kicks in hard rather quickly before settling in with violin.Vocals and violin will lead the way although the guitar is prominant at times. It ends like it began. Good song except for the vocals. "Spam # 2" is dark then it kicks in KING CRIMSON- like. Passionate vocals before a minute. It stays heavy except for the brief light sections that come and go occassionaly. Love the heaviness though. "Spam # 3" opens with gentle guitar, violin and reserved vocals. A beat follows and it does pick up some later.
"Spam # 4" has this drum / guitar intro then the vocals and bass join in.Violin follows. I like the sound after 3 1/2 minutes when the vocals stop and the violin plays over the heaviness.Vocals are back late. "Spam # 5" is laid back but dark with reserved vocals. It picks up after 2 1/2 minutes. Violin a minute later when the vocals stop.Vocals are back 7 1/2 minutes in.Violin ends it. "Spam # 6" features gentle guitar and fragile vocals with piano.Violin arrives after 2 minutes then the tempo picks up. I like this one a lot,especially the long instrumental section.
"Psychopuls" is my favourite album from the band but this ranks as number two. --Mellotron Storm, progarchives.com
download (mp3 @320 kbs):
yandex 4shared mega mediafire uloz.to cloudmailru gett