Kapela Maliszów ‎– Mazurki niepojęte (2015)
Kapela Maliszów ‎– Mazurki niepojęte (2015)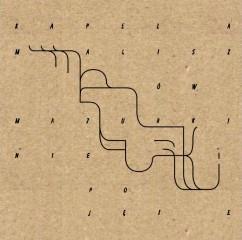 01. Mazurek niepojęty - 03:37
02. Na piecu łoroł - 03:26
03. Zielona lipka - 02:44
04. Mazurek dziki - 03:58
05. Furtok - 02:04
06. Mazurek wilczy - 02:51
07. Chodzony od Józefa - 06:02
08. Wiązanka polek - 03:15
09. Wiązanka mazurków Kacpra Malisza - 06:06
10. Październikowy odlot - 03:06
11. Mazurek kłótliwy - 03:53
12. Haciok - 01:56
13. Ballada o sierotce - 04:25
14. Wiązanka Janka - 04:10
15. Hej przyleciał Szpaczek - 02:33
16. Zawiśloczek - 03:22

Jan Malisz - vocal, guitar, bass, hurdy gurdy, violin
Zuzanna Malisz - vocal, bass, drum (baraban), frame drum
Kacper Malisz - violin, violin Moraharpa, bass

Premiera płyty zespołu, który udowodnia, że tradycja nie jest muzealnym reliktem ale żywą tkanką, która może przybrać najróżniejszy kształt. Przypomina także że młodość może zachwycić dojrzałością a jedynym ograniczeniem jest wyobraźnia!
"Mazurki niepojęte" to nowa wizja muzyki ludowej, bardzo silnie opartej na tradycji, jednak z przeważającym udziałem kreacji twórczej. Podstawą repertuaru są transowe melodie mazurkowe, komponowane przez ojca i syna – Jana i Kacpra. Poziom wirtuozerii i umiejętności piętnastoletniego skrzypka wynosi go do elitarnej grupy najciekawszych skrzypków sceny folkowej ostatnich lat. Niewiarygodna dojrzałość głosu i wspaniałe poczucie rytmu Zuzanny wraz z nieskończoną wyobraźnią lidera a zarazem ojca pozostałych członków zespołu – Jana, stawia Kapelę Maliszów pośród najciekawszych odkryć na scenie muzycznej Polski i za granicą.
W ich grze słychać echa muzyki łuku karpackiego, rodzimą tradycję Pogórza, niespokojnego ducha mazurków z Radomszczyzny w połączeniu ze wspaniałą energią i wyobraźnią. "Mazurki niepojęte" to zbiór melodii na które złożyły się doświadczenia muzyków z ostatnich lat. To muzyka, która zdobywa serca zarówno dziennikarzy muzycznych za granicą (m.in.: BBC 3, Songlines Magazine) jak i fanów dobrej muzyki na całym świecie.
Kapela jest laureatem wielu nagród i wyróżnień, m.in. II miejsca na Festiwalu Nowa Tradycja oraz Złotych Gęśli dla Kacpra Malisza w roku 2014, I miejsca oraz nagrody publiczności – Stara Tradycja przy Festiwalu Wszystkie Mazurki świata w Warszawie, I miejsce – Festiwal Śpiewaków i Kapel w Kazimierzu w roku 2013
Latem 2015 roku Kapela Maliszów wystąpi na wielu prestiżowych festiwalach w Polsce i za granicą, m.in.: Womad Festival w Wielkiej Brytanii, Rainforest Festival w Malezji, Ethnoport w Poznaniu oraz 36. Festiwalu Folkowym Euroradia w Krakowie. --- fonografika.pl
download (mp3 @320 kbs):
yandex 4shared mega mediafire uloz.to cloudmailru gett