Corruption - Pussyworld (2002)
Corruption - Pussyworld (2002)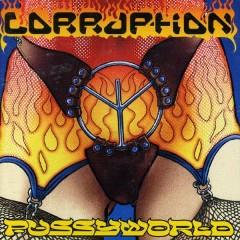 01. How Like Wardog
02. Stoned Like Junkie
03. Happily Wasted
04. Almighty Like Manitou
05. Far From Die Young
06. Hear Licenitious Whispering
07. Hot Headed Like Witcher
08. Ready For The Next Pussy Quest
09. Never Get Old
10. Optimistically Look For The Day After
11. Paranoid
12. Perfect Strangers

Anioł - Bass
Melon - Drums
Rufus - Vocals
Elektryczny - Guitars
Thrashu – Guitars

Stoner rock do przesadnie często wykonywanych w naszym kraju gatunków nie należy, więc z tym większą ciekawością powitałem nowe wcielenie Corruption, reprezentujące właśnie ten nurt muzyczny. Ich najnowszy album poza porządnym warsztatem muzyków i specyficznym klimatem prezentuje kilka dość ciekawych pomysłów, jak thrashowa melodyka "Wardog", czy harmonijkowo - basowe intro w "Pussy Quest & Chain Saw Hash". Niestety, część utworów utrzymana jest w jednej, podobnej konwencji. Słucha się ich co prawda przyjemnie, ale od pewnego momentu, mimo szczerych chęci, jest mi często trudno połapać się, jaki kawałek właśnie leci.
Niewątpliwie do udanych kompozycji należy zaliczyć pierwsze pięć utworów. Dzieje się w nich dużo, melodie są ciekawe, rytmy wciągają. Dalsze kawałki są dobre, ale nie porywające - autorskie nie potrafią już tak zaciekawić, jak te z początku płyty, a "Paranoid" Black Sabbath doczekał się ciekawszych interpretacji. Album wieńczy jeszcze jeden cover - "Perfect Strangers" Deep Purple, moim zdaniem bardziej udany niż "Paranoid".
"Pussyworld" to płyta dobra i dobrze zagrana, jednak trochę nierówna i momentami nieco nużąca, a do tego nienajlepsza pod względem brzmienia. Tym niemniej warto się z nią zapoznać. --- Do diabła, rockmetal.pl
The year 2002 is nearing its end and in many editing offices the forms for the yearly polls are dug up from the archives. For the first time in their ten year career Polish CORRUPTION will be a candidate for awards, in the categories of most gruesome cover artwork and most stupid album-title. What goal they pursued with the gaudily coloured and embarrassingly kitschy booklet, apart from deterrence of potential customers, remains a secret for me. Add to that the very childish choice of the album-title, because with "Pussyworld" they definitely squarely put their foot in it and do not deserve anything better than being laughed at by the listeners. They use clichés that nobody needs anymore and subsequently also degrade the musical enjoyment.
Even if this seems to be unfair, it would have been better to sell the new and by now fourth album without cover and title instead of getting into hot water with this packaging. Anyway, the direction of CORRUPTION clearly is Hard Rock with a huge portion of bands that are commonly referred to as "Stoner Rock". So the influences easily can be detected and that they more than worship KYUSS and co is obvious after the first few tracks already. Of course also BLACK SABBATH, ORANGE GOBLIN or MONSTER MAGNET grin around the corner every now and then. Still "Wardog", "Wasted" or "Whispering" are quite convincing, while "Junkie" or "Pussy Quest & Chain Saw Hash" rather slide down into mediocrity and make the urge to take the CD out of the player bigger and bigger.
The positive basics predominate, but the promotion into the first division still is denied. The musicianship is not the problem, but rather the lack of feeling for gripping songs that you just cannot get in the next corner store. And closing off the CD we also get two more or less well done cover-versions of "Paranoid" (BLACK SABBATH's most-covered song ever) and "Perfect Stranger" (DEEP PURPLE).
Should they be able to reign in the graphical output and rather concentrate the ideas on the musical side, then we could be in for a surprise the next time around. --- Alex E., metal-observer.com
download (mp3 @320 kbs):
yandex 4shared mega mediafire cloudmailru uplea