Wojnar - Jam synem orlim jest na wieki… (1998/2009)
Wojnar - Jam synem orlim jest na wieki… (1998/2009)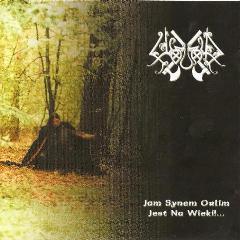 01. Jam synem orlim jest na wieki! Pt 1 - 23:26
02. Jam synem orlim jest na wieki! Pt 2 - 18:20

Wojnar - All instruments, Vocals

WOJNAR (ex- Saltus, Piorun, ex- Sorrow Filled, ex- Swastyka) rozpoczął swą działalność w 1997roku w Warszawie . W ciągu swej działalności wydał trzy dema (Zimowa Opowieść, Jam Synem Orlim Jest na Wieki, Kiedy Duch Wojny Nade Mną Powstanie), oraz trzy płyty (The Book of Veles, Z Najgłębszych Borów Pieśni Wam Niosę, oraz reedycję Kiedy Duch Wojny…).
W czasie swojej działalności WOJNAR współpracował między innymi z ukraińskim NOKTURNAL MORTUM.
Reedycja płyty "Jam Synem Orlim Jest Na Wieki", została wydana przez wschodnią wytwórnię Lost Reich Records (Rosja) 16 kwietnia 2009. ---last.fm
Certainly when I saw the album cover, the pagan spirit still lives, very much so you feel like listening to the music when you see the album cover.
Basically, this demo album contains just two tracks, but of long length. Each track is a journey. There are a good amount of elements in the music. The typical dungeon-like synth that is present in the first demo is present here. There are also clean male vocals, keyboards, and folk elements. Some black metal vocals appear at times in the song as well. A highlight part of this album is in the first track, Jam Synem Orlim Jest na Wieki! Pt1, at the 16-minute mark when the song gets quicker and more action-packed in its resemblance of a battle or war.
The second track, Jam Synem Orlim Jest na Wieki! Pt2, starts off awesomely with beautiful keyboards, tribal drums, and synthesizer in the background followed by black metal vocals. As the track goes on, the keyboards continue in the sound of an organ this time. More synthesizer, keyboard, and male vocals will continue, eventually getting the listener stuck in the beautiful music.
Overall, this album deserves about an 80% from me. One could say the music is boring at times, but I would disagree. It's all action-packed. I'm not sure what would make this album a masterpiece. Nonetheless, it proves to be enjoyable. I recommend this album for people who like black metal, folk, ambient, pagan, and classical music. --- Gothiccc, metal-archives.com
download (mp3 @320 kbs):
yandex 4shared mega mediafire zalivalka cloudmailru uplea ge.tt