Mietek Blues Band ‎– Radio Sessions (2007)
Mietek Blues Band ‎– Radio Sessions (2007)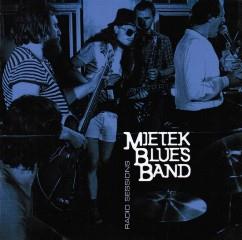 01. Droga za miastem
02. Powrót Oliviera
03. Zmora
04. Kombinezon
05. Cicha ulica
06. W mej pamięci
07. W kroplach deszczu
08. Every Day I Have the Blues
09. Caldonia
10. Rock Me Baby
11. Worried Dream
12. Same Old Blues
13. Shame Shame Shame
14. Nocny klient
15. Ramion twoich cień

Mieczysław Wróbel - guitar
Romuald "Mały" Sławiński - vocals
Tomek Przyborowicz - bass
Piotr Góra - drums
Marek Jurski - keyboards

Mietek Blues Band, to prawdziwa ikona polskiego bluesa. Ta płyta, to dopiero 4 pełnowymiarowe wydawnictwo trójmiejskiej formacji, która już od ponad 30 lat z dużym powodzeniem realizuje swoją wizję chicagowskiego bluesa. Muzycy w trakcie swojej kariery występowali już u boku takich gwiazd, jak Joe Cocker, Jethro Tull, czy B. B. King. W 1997 roku zespół w ogólnopolskiej ankiecie radiowej został uznany za najlepszy zespół roku, natomiast krążek "Tribute To The Blues" zdobył drugie miejsce w kategorii płyta roku. Od pierwszych dźwięków słychać, że muzycy naprawdę znają się na rzeczy. Świetne harmonie, żywiołowe kompozycje oraz doskonałe partie basu sprawiają, że płyty słucha się wyśmienicie. Rewelacyjny 'elektryczny' blues w najlepszym wydaniu. --- wsm.serpent.pl
It's difficult for me to decide how to start this review. Not only does this album get so many things right, but it's unlike anything else in my music collection. The short label I've given this style is "Polish folk pop", but the influences heard on this album are vast.
First off, I don't know any Polish, but the gang vocal melodies are so catchy on this album, I can't help but sing "EE-YA-HEE-YA-HEE-YEH" during Galop or "SALOMANGA SALOMANGA BA-SAM-PEH-REM-PEH---HA" on Salomanga. The fact that I don't know what I'm singing about can easily and happily be ignored. ,/
The variety in instrumentation and songwriting on this album are what really make it stand out to me. There are bagpipes on Tupany, what I believe is electric violin on Zbuntowany Anioł, scat singing on the title track, and myriad others playing both leads and rhythm. As for song styles, some tracks like Galop and Ubiję, usiekę are very polka, others like Cy to ta are much moodier, and W dziekie wino zaplątani even sounds a bit like American bluegrass! ,/
It's also worth mentioning that the production was obviously done professionally. The vocal harmonies, bass, etc. all come through crystal clear. If you want some eclectic and marvelously written pop, you should definitely check this band out. If the catchy sing-along melodies don't satisfy you, the vastness of styles on this album will.
As a final note, it seems there are TWO VERSIONS of this album. My first exposure to this album was pirated, and it only had ten tracks. I liked it enough to buy it, and I found that not only were there four extra tracks, but several songs had been embellished. Zbutowany Anioł, for example, didn't have the aforementioned electric violin part on the first version I heard. --- Sarkreth, amazon.com
download (mp3 @320 kbs):
yandex 4shared mega mediafire cloudmailru uplea ge.tt