Jafia - KA RA VA NA (2015)
Jafia - KA RA VA NA (2015)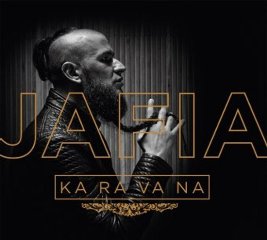 01. The Drift
02. Your Happiness
03. Powstanie (feat. Dorrey Lin Lyles)
04. Mama
05. Skrucha (feat. Kayah)
06. Rescue Chair
07. Do celu
08. U siebie
09. Karavana
10. Sons & Doughters 
11. W drogę
12. Somehow (feat. Dorrey Lin Lyles)

Dawid Portasz – vocal, guitar;
Tomasz Koźlarek – bass guitar;
Mirosław Chojnacki – drums;
Jan Gembala – keyboards, piano, organ (Hammond), programming;
Rafał Czajkowski – guitar
+
Wojciech Karolak – organ (Hammond) (10);
Marcin Pospieszalski – bass guitar (10), programming (03, 04, 07, 12);
Tomas Celis Sanchez – percussion (02, 04, 05, 08, 09, 11);
Łukasz Łacny – French horn (08);
Tomasz Busławski – saxophone (03 - 06);
Przemysław Kostrzewa – trumpet (03 - 06);
Dorrey Lin Lyles – back vocal (01 - 10, 12);
Brittany Lyles – back vocal (01 - 10, 12);
Jami Holland – back vocal (01 - 10, 12)
+
String sextet (01, 07 - 09, 12):

Elżbieta Skrzymowska – violin;
Małgorzata Liszak – violin;
Jadwiga Dyla – violin;
Aleksandra Kruszona – violin;
Jolanta Brandys – viola;
Wioletta Marecka – cello

Jeden z najciekawszych krajowych wykonawców z kręgu reggae powraca po lekkiej kosmetyce nazwy oraz liftingu muzycznym. I robi to z bardzo dobrym skutkiem...
Dawid Portasz – od początku lider zespołu – skrócił dotychczasowy szyld Jafia Namuel. Za tym poszły również zmiany stylistyczne. Fanów poprzedniego wcielenia grupy pragnę uspokoić: reggae'owego bujania wciąż jest pod dostatkiem. I jest to reggae wysokiej próby, z silnymi wpływami Boba Marley'a ("Your Happiness", czy promujący płytę "Mama").
Ale Portasz śmiało otworzył się również na inne gatunki. Sporo na "Ka ra va nie" soulowych wpływów ("Rescue Chair" z fajnie pracującą sekcją dętą i żeńskimi chórkami; kawałek tytułowy, gdzie mamy klimaty niczym z amerykańskich filmów z lat siedemdziesiątych); słychać także wpływy gospel ("Sons & Daughters", ozdobiony organową partią wybitnego jazzmana Wojciecha Karolaka).
Znakomicie wyszło liderowi połączenie różnych gatunków w obrębie jednej kompozycji. Mam na myśli utwór "Skrucha", gdzie jest i reggae'owa pulsacja, i soulowa żarliwość w partiach wokalnych (dobrą robotę wykonuje tutaj śpiewające gościnnie Kayah), i gospelowe chórki. Efekt – naprawdę powalający.
Jafia mimo zmian nie straciła swojej tożsamości, moim zdaniem tylko zyskała na odświeżeniu swojej muzyki. "Ka ra va na" to mocna kandydatka do grona najlepszych polskich płyt 2015 roku. ---Robert Dłucik, wyspa.fm
download (mp3 @320 kbs):
uploaded yandex 4shared mega mediafire zalivalka cloudmailru oboom uplea