Whiskey River - CountryBluesRock&roll (2012)
Whiskey River - CountryBluesRock&roll (2012)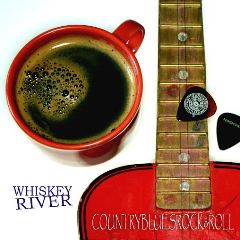 01. Piosenka o butach
02. Na autostradzie
03. Kiedy idę znowu
04. Bądz wierny
05. Dziwny gosc
06. Niebo zza krat
07. Nie płacz mała
08. O poznym wstawaniu
09. Stara knajpa honky - tonk
10. Blues we dwoje
11. Złotowłosa
12. Wróc Panie na ziemię

Antoni Kreis –  śpiew, gitara akustyczna, harmonijka ustna
Katarzyna Lisek-Orkisz – skrzypce śpiew
Dariusz Winkler – instrumenty klawiszowe, akordeon, tara, śpiew
Grzegorz Wanatowicz – gitara akustyczna, elektryczna, dobro, banjo 6str
Wojciech Wieczorek – gitara akustycznadobro, banjo 5 str, mandolina
Michał Kubista – gitara basowa
Joachim Ochman – perkusja
+
Karina "Carrie" Stępniewska - śpiew  (6), 
Dominika Seger - saksofon (5, 11), 
Adrian Kowalski - gitara akustyczna (6)
Kwartet smyczkowy w składzie:
Katarzyna Lisek-Orkisz - skrzypce,  Małgorzata Malke  - skrzypce, 
Aleksandra Urbańska - altówka, Joanna Urbańska - wiolonczela.
Chór:
Małgorzata Fąfara, Bogusława Majska, Iwona Makowska, Maria Płonka.

Cześć! Nazywamy się Whisky River Rock'n'Roll Band. Powstaliśmy w 2008 roku i od tamtego czasu nie liczy się dla nas nic więcej, jak tylko zagrać kilka dobrych, zardzewiałych dźwięków…
Co gramy? Nasz projekt oparty jest na rock & rollu, rhythm & boogie, starym dobrym soulu, disco lat 70′ oraz innych oldskulach. Jak mawiają złośliwcy, przy dobrym brunatnym whisky możemy też zagrać country lat 70-tych. W repertuarze mamy utwory, które bez skrupułów można by odesłać do lamusa. Gramy muzykę takich wykonawców jak: Jerry Lee Lewis, Ray Charles, Candi Staton, Creedence Clearwater Revival, Tom Jones, Aretha Franklin, Dr John, Salomon Burke, Kris Kristofferson, Olivia Newton John, Eric Clapton, Pointer Sisters, Chick & Sister Sledge, Etta James, Smokie, Fats Domino czy późny Elvis Presley. Obawiamy się, że te nazwiska mogą Ci nic nie mówić, ale może to i lepiej. Jest więc szansa, że usłyszysz jak kiedyś grano starego, solidnego rock&rolla.
Na stałe współpracujemy z poznańskimi klubami, takich jak między innymi: The Dubliner Irish Pub, Sarp, Lizard King i inne… Gdzie można nas posłuchać?
Grywamy po knajpach, garażach, w ogrodach i nad jeziorami. Występujemy na imprezach okolicznościowych i koncertach plenerowych. Dajemy soulowo-blusowo-rockandrollowego czadu na spotkaniach integracyjnych, galach i eventach firmowych oraz zlotach motocyklowych. Muzycznie wprowadzaliśmy w Nowy Rok. Właściwie do pełni szczęścia brakuje nam tylko dożynek i komunii :-) ps, jeśli chcesz to możemy zagrać na weselu Twojej córy :-) --- whiskyriver.wrrb.pl
download (mp3 @320 kbs):
uploaded yandex 4shared mega mediafire solidfiles zalivalka cloudmailru oboom