KSU - Moje Bieszczady (1993)
KSU - Moje Bieszczady (1993)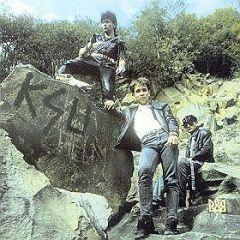 01. Moje Bieszczady
02. Hej Panie Rock'n'Roll
03. Esperal Blues
04. Wojna W Imię ?
05. Wojownik
06. Nad Trupem Jugosławii
07. Runęły Mury
08. Ostatnia Pieśń O Wolności
09. Wielki Bazar
10. 4 Lipca W Warszawie
11. Wiosna Na Poligonie
12. Hebrajczyk (voc. improwizowany)
13. Moje Bieszczady II

    Eugeniusz Olejarczyk "Siczka" – gitara, śpiew
    Bogdan Tutak "Tuptuś" – perkusja
    Bartłomiej Kądziołka "QQŚ" – gitara basowa
    Dariusz Dziuroń "Nero" – gitara

Trzecia płyta w dorobku zespołu KSU wydana w listopadzie 1993 roku za sprawą wydawnictwa Melissa z Wrocławia. Materiał był nagrywany już w innym składzie niż wcześniejsze, a mianowicie: Siczka, Kukuś i Tuptuś, jednakże Siczka współpracował nad tą płytą także z Jarkiem Kidawą. Album Moje Bieszczady ukazał się bez jakiejkolwiek promocji. Znalazło się na nim, podobnie jak na dwóch wcześniejszych płytach 13 utworów.
Już pierwszy kawałek pod tym samym tytułem co nazwa albumu daje do zrozumienia, że mamy do czynienia z dobrą robotą zespołu. Potem można się tylko umocnić w takim przekonaniu. Kolejno; Hej Panie Rock 'n' Roll, Esperal Blues i Wojna W Imię nadają blasku tej płycie.
Moje Bieszczady mają to coś i właśnie to nadaje temu materiałowi charakter, który sprawi, że nie prędko go odstawimy tą płytę. Dalsze zachwalanie nie ma sensu. Najlepiej po prostu samemu sprawdzić co i w jaki sposób ma nam do przekazania KSU.
Jednym słowem po prostu gorąco polecam ! --- Adam Pawłowski
download (mp3 @128 kbs):
uploaded yandex 4shared mega gett mediafire solidfiles zalivalka cloudmailru oboom