Daniel Drumz & Mr Krime - Music For Night People [2010]
Daniel Drumz & Mr Krime - Music For Night People [2010]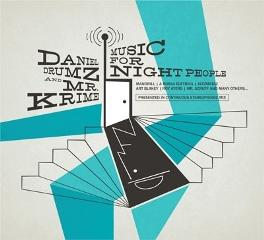 1 	–Lee Dorsey 	Night People (Al's Night-Time & Daytime Re-Edit) 	
2 	–Mandrill 	Mango Meat 	
3 	–Bacao Rhythm & Steel Band, The 	Look-A-Py-Py 	
4 	–James Taylor's 4th Dimension 	Dead Leg 	
5 	–Daniel Drumz & Mr Krime 	Ozomatli Skit 	
6 	–Mahagon 	Prameny Poznání 	
7 	–Bernard Purdie 	Heavy Soul Slinger 	
8 	–A Bossa Elétrica 	Núcleo Urbano 	
9 	–César's Salad 	Batucada Surgiu 	
10 	–Direct Fly 	Earwitness 	
11 	–Emilio Santiago 	Bananeira 	
12 	–Macky Feary Band 	A Million Stars 	
13 	–Marcina Arnold 	Blues For Jean Charles Menezes 	
14 	–Jazzmatazz 	No Time To Play     Featuring – Dee C. Lee
15 	–Don Blackman 	Heart's Desire 	
16 	–Daniel Drumz & Mr Krime 	Za Chwilę Dalszy Ciąg Piosenki 	
17 	–Hubert Laws 	Family 	
18 	–Mark E 	Sun Shadow 	
19 	–Art Blakey Percussion Ensemble 	Cubano Chant 	
20 	–Roy Ayers 	We Live In Brooklyn (Sasso Re-Edit)     Remix – Sasso
21 	–Assembly Line (2) VS Motion Picture 	Nocturnal Animals (Exclusive!) 	
22 	–Mr. Scruff 	Bunch Of Keys

Compiled By [Selection] – Mr Krime, Daniel Drumz
DJ Mix – Mr Krime, Daniel Drumz
Edited By – Mr Krime, Daniel Drumz
Mixed By – Mr Krime, Daniel Drumz
Piano – Mr Krime
Scratches [Cuts] – Mr Krime, Daniel Drumz

Music For Nightpeople is my recent mix recorded together with Mr. Krime. Funk, soul, rare grooves, hip hop, latin, brazil, jazz and more, plus some nice turntable skillz, MPC and Rhodes piano, thats what You hear on this one... also featuring a nice special drop from our friend Rocky a.k.a. MC Motion Picture - a Chicago based rapper. Artwork by Animisiewaz Startt --- mixcloud.com/danieldrumz/
Funk, soul, nieco rytmów kubańskich plus odrobina rapu – tak najłatwiej można opisać czym jest wspólny miks Drumz'a i Krime'a. Można też inaczej. Wyśmienicie dobrane kawałki, całość klei się jak super glue, a przede wszystkim genialnie się tego słucha!
To, że Daniel to zdolny koleżka wiadomo nie od dziś. Współpraca z Grammatikiem, Eldoką, czy fantasycznie odebrane mikstejpy (Electric Relaxation mixtape vol. 1 & 2) tym może poszczycić się mieszkaniec Krakowa (chyba Krakowa, może pochodzić z jakiejś wioski obok, ale z tego co się orientuje to mieszka w stolicy Małopolski).
Krime'a powiem szczerze nie kojarzyłem bardzo. Jego ksywka obiła mi się o uszy, ale jakoś nie sprawdziłem jego dokonań. Po "Music…" błędu powtórzyć nie mogłem.
Jak pisałem na początku "Music for night people" słucha się wyśmienicie. Kawałki zostały dobrane rewelacyjne. Już od pierwszego numeru cały miks Cię wkręci. Klimatyczne "Night People" jest początkiem podróży przez 18 kawałków (w tym dwa skity), w których usłyszeć będziemy mogli m.in. Macky Feary Band (rewelacja!), Roy'a Ayersa czy Jazzmataz. A co z rapem? Pojawia się bodajże dwukrotnie. Pierwszy raz w kawałku "Time To Play" wspomnianego wyżej Jazzmataz nawija oczywiście Guru, dalej nawijkę posłuchamy w przedostatnim utworze na miksie pt. "Nocturnal Animals". All in all (jak to się na angielskim pisało) "Music for night people" to solidny materiał. Od początku do końca serwuje mistrzowski klimat, od którego trudno się oderwać. Świetna robota Drodzy Panowie! --- zerosiedem.wordpress.com
download (mp3 @224 kbs):
uploaded yandex 4shared mega solidfiles zalivalka cloudmailru filecloudio oboom clicknupload