Bezczel - A.D.H.D. (2013)
Bezczel - A.D.H.D. (2013)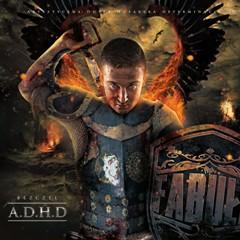 01. Bezczel - Dusza (Intro)
02. Bezczel - A.D.H.D.
03. Bezczel - Urodzeni Z Krzykiem, Wychowani W Buncie ft. Kala
04. Bezczel - Proforma 2 ft. Sitek, Ero, Ede, Pyskaty, Poszwixxx, VNM
05. Bezczel - Zatrutych Uczuc won
06. Bezczel - Prawo Ponad Prawem
07. Bezczel - Swego Pewien ft. Paluch
08. Bezczel - Epizod
09. Bezczel - Anioly i Demony ft. WSRH
10. Bezczel - Wszystko Czego Potrzebuje
11. Bezczel - Doprawdy ft. Joter, Cira
12. Bezczel - Rzeznia ft. PTP, Sobota
13. Bezczel - Nie Umiemy Zyc Ze Soba, Nie Mozemy Zyc Bez Siebie ft. Kroolik Underwood
14. Bezczel – Outro

Bezczel to wychowanek białostockiej szkoły hip-hopu posiadający charakterystyczny styl rapowania oraz ponadprzeciętne flow. Jeden z filarów zespołu Fabuła przez ostatnie lata pracował starannie nad solowym albumem "A.D.H.D". Ostateczny kształt kilkuletniej pracy rapera słuchacze poznają 22 marca 2013 roku.
Skrót słów A.D.H.D. równie dobrze odzwierciedlają zawartość płyty, która w dużym stopniu niesie za sobą patriotyczne treści oraz porusza społeczne problemy. Jest to pierwszy, solowy album rapera, jednak łatka "debiutanta" nie do końca pasuje w tym przypadku. Wcześniej Bezczel wydał 2 dobrze przyjęte krążki jako Fabuła ("Dzieło Sztuki" z 2009 roku oraz "Made In 2" z 2011 roku) oraz wspólny album z Kobrą "0,7 na dwóch".
Za warstwę muzyczną albumu "A.D.H.D" odpowiada w dużej mierze Poszwixxx, doświadczony producent a prywatnie przyjaciel Bezczela. To on odpowiada za wyprodukowanie utworu "Proforma 2", który najpewniej będzie jednym z najpopularniejszych singli w 2013 roku. Poza tym na krążku znajdziemy bity od Bob Aira, Chmuroka, PSR, Kaszpira, Zelo, Welona i Młodego GRO. W dwóch utworach klawisze dograł Marek Kubik, a skrecze DJ Soina i DJ Kebs.
Wokalnie Bezczela na nowej płycie wsparł Ero, Sitek, Pyskaty, VNM, Paluch, WSRH, Joter, Cira, PTP, Sobota oraz koledzy z zespołu Ede i Poszwixxx. Do dwóch utworów został dograny refren przez Kalę oraz Kroolika Underwood. --- http://preorder.pl/muzyka
download (mp3 @320 kbs):
uploaded yandex 4shared mega solidfiles zalivalka cloudmailru filecloudio oboom clicknupload