incarNations - Radio Retro (2010)
incarNations - Radio Retro (2010)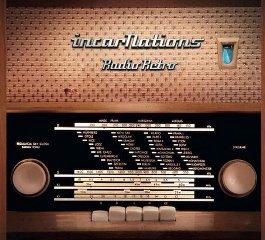 1. Wielkie jest czekanie 	
2. Zabrakło łez 	
3. Wiarę przywróć mi 	
4. Śniłeś 	
5. Daj mi tę noc 	
6. Mów do mnie jeszcze 	
7. Miłość Tobie dam 	
8. Miłość Tobie dam DUB 	
9. Liczenie gwiazd 	
10. Nie wierz tym 	
11. Uśnij mi uśnij

    Maja Kleszcz - śpiew
    Wojciech Krzak - gitara, skrzypce
    Paweł Mazurczak - kontrabas
    Jan Smoczyński - fortepian, organy Hammonda
    Hubert Zemler - perkusja
    Wojciech Hurkacz - saksofon, klarnet

IncarNations i "Radio Retro" to najnowszy projekt artystyczny Wojtka Krzaka i Mai Kleszcz - liderów Kapeli ze Wsi Warszawa.
"Radio Retro" - to hołd złożony, nie tak znowu odległym, złotym czasom polskiej piosenki. Czasom, gdy w piosence ważna była zarówno muzyka jak i tekst oraz interpretacja. Dobra muzyka nie uznawała granic - lampowe radia niosły w świat dźwięki, które nie znały edycji, cyfrowej obróbki i innych tanich sztuczek. Królowała prostota, smak i elegancja. O przebojowości i popularności utworu decydowała melodia, dobry tekst i świetne wykonanie. Niby to oczywiste, a jednak jakże trudne a przede wszystkim aktualnie niespotykane... Gitara, pianino, kontrabas, perkusja, saksofon i piękny głos. Wtedy wystarczyło, może wystarczy i dziś? Album zawiera autorskie kompozycje Wojtka. Maja jest laureatką wyróżnienia 31 Festiwalu Piosenki Aktorskiej.
Autorem większości tekstów zawartych na płycie jest klasyk pióra - Bogdan Loebl - znany choćby z kultowej już dziś współpracy z zespołami Tadeusza Nalepy czy Stana Borysa, autor takich utworów jak: "Kiedy byłem małym chłopcem" czy legendarnej "Anny". Do udziału w nagraniach "Radio Retro" Maja i Wojtek zaprosili swoisty "dream team" - młodych polskich muzyków - Pawła Mazurczaka, Janka Smoczyńskiego, Huberta Zemlera - znanych ze współpracy z całą plejadą rodzimych artystów.
Muzycznie dużo tutaj nawiązań do bluesa folku, gipsy swingu, reggae, soulu czy jazzu. Akustyczne utwory w połączeniu z charyzmatycznym głosem Mai stwarzają niezwykły klimat. "Radio Retro" to efekt ogromnej pasji jego twórców, silnej potrzeby muzykowania i obcowania z muzyką. Album niezwykły, zaskakujący i czarujący... --- merlin.pl
download (mp3 @192 kbs):
uploaded yandex 4shared mega solidfiles zalivalka cloudmailru filecloudio oboom uplea