Quidam ‎- Pod Niebem Czas (2002)
Quidam ‎- Pod Niebem Czas (2002)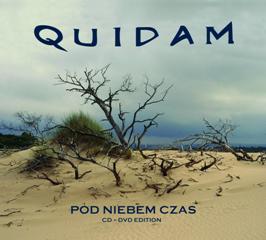 1 	List Z Pustyni I 	
2 	Ciągle Czekam (List Z Pustyni II) 	
3 	No Quarter 	
4 	Nowe Imię 	
5 	Kozolec (Dla AgaPe) 	
6 	Credo I 	
7 	Credo II 	
8 	Jesteś (W Labiryncie Myśli) 	
9 	Quimpromptu 	
10 	Wszystko Ma Swój (Pod Niebem Czas) 	

Bass – Radek Scholl
Drums, Percussion – Rafał Jermakow
Electric Guitar, Acoustic Guitar – Maciek Meller
Flute [Flutes] – Jacek Zasada
Piano, Keyboards – Zbyszek Florek
Vocals, Backing Vocals – Emila Derkowska
+
Oboe – Monika Margielewska (1)
Flugelhorn – Miłosz Gawryłkiewicz (2)
Accordion – Michał Maciejewski (5)
Mandolin – Robert Amirian (5)
Bass – Grzegorz Nadolny (8)

Lista zespołów wzgardzonych przez rodzimy biznes muzyczny, a odnoszących sukcesy na arenie międzynarodowej jest zapewne długa, szeroka i z pewnością nie ogranicza się tylko Najjaśniejszej Rzeczypospolitej. I pewnie tak jak wszędzie, w Polsce również gremia "opiniotwórcze" zachwycają się i nagradzają wtórne, popowe produkcje, z którymi i tak nie mamy co startować na obce rynki, bo mają tam tego wystarczająco dużo i do tego profesjonalniej wyprodukowanych. A my tymczasem jak najbardziej mamy się czym pochwalić. Cóż z tego, że możliwości tworzenia wartościowej muzyki istnieją w gatunkach alternatywnych do mainstreamu? Co za czasy, żeby muzyka rockowa była alternatywna do mainstreamu?! Bo jakąż inną muzykę gra inowrocławski Quidam, jeśli nie rock? A że nie jest sformatowany na komputerowe playlisty, że zamiast grzecznie "towarzyszyć" przykuwa uwagę i uwodzi koncentrację? Szkoda nerwów. Jestem wszakże pod wielkim wrażeniem trzeciej płyty Quidamu. Prawdziwa produkcyjna żyleta o dźwięku wyważonym z niebywałą precyzją. Każdy instrument ma tu swoje miejsce i nie walczy z innymi o to by być słyszalnym. Profesjonalizm członków zespołu jako instrumentalistów jedynie podkreśla te zalety.
Tandem kompozytorski Florek/Meller, który de facto odpowiada za całość materiału zamieszczonego na wydawnictwie, imponuje różnorodnością pomysłów. Właściwie jedynym utworem, co do którego mam całościowo poważne zastrzeżenia jest "Kozolec" za jego niepotrzebnie radosny, "jarmarczny" aranż i naiwny, nieinteresujący tekst. Przyznam się od razu, że nie jestem zwolennikiem śpiewania po polsku, bo wtedy potrzeba cholernie dobrych tekstów, a nie każdy to potrafi. Do dziś o ile dobrze sobie przypominam jedynie płyta Lizarda pod tym względem mnie nie zawiodła, innych pomińmy milczeniem. Wiem, że wiele osób gorąco się ze mną nie zgodzi, ale uważam, że najsłabszym elementem zespołu Quidam jest wokal Emili Derkowskiej. Co oczywiście nie znaczy, że jest on zły, ale ja chętniej słyszałbym tu kogoś z głosem głębszym, mocniejszym i niższym odrobinę. W niektórych momentach mam wrażenie, że ten głos lada moment rozsypie się w drobny mak, w innych chwilach razi manierą śpiewania Hanny Banaszak (respect dla Hani!). Gwoli sprawiedliwości, należy też zaznaczyć dobre śpiewanie jak w utworze "Credo I" i naprawdę dobre wokalizy jak te z "Listu z pustyni I". Nie zmienia to jednak faktu, że zdecydowanie najbardziej na całej płycie podobają mi się instrumentalne "Quimpromptu" (kolektywna inicjatywa zespołu) i "Credo II" - w obu powalają partie gitary. Cover klasycznego utworu Led Zeppelin "No quarter" to również mocny punkt krążka. W ciągu ostatnich lat słyszałem dwie interpretacje tej kompozycji (Tool i Quidam) i z pewną nieśmiałością przyznaję, że podobają mi się bardziej niż oryginał.
W quidamowskiej wersji ponownie mocnym punktem całości jest śpiew Derkowskiej, ale po pierwsze utwór został napisany pod męski głos co wymusiło pewną zmianę barwy, a po drugie myślę, że ma to związek z tym, że Emila Derkowska nie układała tutaj linii wokalnych. Płyta jest pod względem muzycznym wyborna, jeśli chodzi o wokale jest do przyjęcia. Z pewnością znajduje wielu amatorów akceptujących ją bez zastrzeżeń. "Pod niebem czas" jest gratką dla sympatyków rocka z odrobiną progresywnego feelingu, szukających w muzyce czegoś więcej niż tylko banalnych szlagwortów. --- Leszek Żabiński, taboo.art.pl
When this album was originally released, back in 2002, I was absolutely blown away and to this day it is still one of my favourite Polish albums. This reissue is a double disc set, with the original album and a DVD – more of the latter in a minute. My lack of understanding of the Polish language in no way detracts from the album as a whole, as for me the vocals becomes another instrument. Emila Derkowska had a wonderfully clear voice and the whole band gels and shines together in a similar fashion to the way that Pink Floyd once did. With a flautist within the band (Jacek Zasada) it gave them the opportunity to move away from the (reasonably) standard five person prog set up, and they also used guests to fill out the sound even more (oboe, flugelhorn (!), mandolin, accordion).
This is a progressive album that really is, one that brings together different instruments and players in a way that makes it feel as if they belong together. There is a cover version on the album, a brilliant take on "No Quarter" that nearly breaks the twelve minute mark, and the second half of the album is taken up with a complex piece which when taken as a whole is thirty minutes long (although it can be subdivided into five songs). I still believe that this is the best of all of Quidam's albums, showing the majesty and grace that only a band at the height of their powers could achieve.
At the beginning of 2003 after Quidam had come back to Poland from shows in Belgium and Holland, they started preparations for a special show in the band's hometown, Inowroclaw. As it turned out later, this performance was the last one of the band's line-up of that time as singer Emilia Derkowska decided to quit the band. On 16th February 2003 Emilia bade farewell during the sold out show in Teatr Miejski in Inowroclaw. Soon afterwards, the rhythm section, Radek Sikorski and Rafal Jermakow also left and the band had to regroup. Luckily, that final show was captured by three digital non-professional cameras and this is the DVD. If you have never been fortunate enough to see this line-up of Quidam in concert (and most of us haven't) then this is the only opportunity we will have. Also, this was one of the times that Colin Bass (Camel) made a guest appearance with the band so it is definitely worth catching. ---Kevfeedback, rateyourmusic.com
download (mp3 @320 kbs):
yandex 4shared mega mediafire uloz.to cloudmailru gett