Quidam - Strong Together (2010)
Quidam - Strong Together (2010)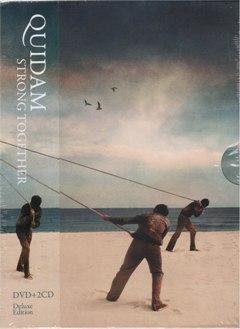 CD1
1. Different [3:49]
2. Kinds Of Solitude At Night [6:20]
3. One Day We Find (including excerpt from "Red") [8:33]
4. SurREvival [8:42]
5. Depicting Colours Of Emotions [10:24]
6. We Lost (including excerpt from "Walkin' Around The Stormy Bay") [11:14]
7. The Fifth Queen Of Everything (including excerpts from "The Fifth Season", "Queen Of Moulin Rouge" and "Everything's Ended") [12:21]

CD2
8. They Are There To Remind Us (including excerpt from "Riders On The Storm") [11:21]
9. Of Illusions [12:24]
10. Not So Close (including excerpt from "Hush") [10:48]
11. We Are Alone Together [9:21]
12. Sanktuarium (Sanctuary) [8:34]
13. ...But Strong Together [4:45]
14. Wish You Were Here [4:35]

Bartek Kossowicz - vocals, percussion 
Zbyszek Florek - keyboards, backing vocals 
Maciek Meller - guitar, acoustic guitar, backing vocals 
Maciek Wróblewski - drums 
Jacek Zasada - flutes, xaphoon, percussion, bass guitar on "Wish You Were Here", backing vocals Mariusz Ziółkowski - bass guitar, 12-string guitar on "Wish You Were Here" 
+
Tylda Ciołkosz - violin 
Piotr Rogóż - alto sax
Michał Florczak - visuals on "Alone Together"

Strong Together. A strong title, and an apt one at that, as it accurately pinpoints the quality flowing through Quidam's latest release: a deluxe DVD and double-CD package documenting a truly outstanding live performance of the band's already well established material along with some intriguing musical surprises. All rendered flawlessly by the ensemble and their talented guests (Tylda Ciolkosz, a barefoot violinist, and Piotr Rogoz, an incendiary saxophonist). But the strength of their performance lies not so much in a question of "what?" but "how?" Never before was the band's sound so natural, spontaneous and full-blooded in a truly rock fashion - qualities brought forward by a superb sound production, especially impressive in 5.1. The longest-serving band members - Zbyszek Florek (keyboards), Maciek Meller (guitars) and Jacek Zasada (woodwind), supported by a fantastic rhythm section (Mariusz Ziolkowski - bass guitar, and Maciej Wroblewski - drums) recreate here their trademark soundscapes with unmatched ingenuity. Center stage undoubtedly belongs to Bartek Kossowicz who really puts his heart into the vocals carrying across the whole spectrum of emotions - there is a place for melancholy, longing, raw power and even a bit of irony.. ---progressiveworld.net
Wydawnictwo zatytułowane jest "Strong Together", czyli podobnie jak tytuł ostatniego utworu z płyty "Alone Together", której głównym motywem są różne formy samotności. Do tego motywu przewodniego nawiązuje ciekawa i bardzo starannie wykonana szata graficzna "Strong Together", co w przypadku wydawnictw zespołu Quidam stało się już miłą dla odbiorcy tradycją. Materiał wykonany na koncercie i zarejestrowany na płycie obejmuje wszystkie utwory z płyty "Alone Together" oraz połowę z poprzedniego krążka "SurREvival". Tradycyjnie nie zabrakło też coverów, które jednak dawkowane były dość oszczędnie, i to chyba dobrze, biorąc pod uwagę znakomity autorski materiał Quidamu.
Najciekawszym z takich fragmentów był bez wątpienia fragment utworu "Red" grupy King Crimson wpleciony w utwór "One Day We Find", w którym na skrzypcach wspomogła grupę Tylda Ciołkosz; inny zaproszony gość, saksofonista Piotr Rogóż, wykonał solówkę w utworze "We Lost". Wydawnictwo "Strong Together" pokazuje znakomite zgranie zespołu i umiejętne operowanie dramaturgią występu; zwraca uwagę warsztat wykonawczy członków grupy, a zwłaszcza doskonała współpraca basu i bębnów. Jedynym drobnym mankamentem wykonawczym jest niezbyt dobre zestrojenie instrumentów w czasie wykonywania fragmentu "Red".
Obecnie zespół Quidam pracuje nad materiałem na swoją trzecią w obecnym składzie (a siódmą w ogóle) płytę ze studyjnym materiałem premierowym; dwa nowe fragmenty mogliśmy usłyszeć w czasie wiosennej trasy zespołu. Zanim jednak otrzymamy nowy krążek, możemy cieszyć się wydawnictwem "Strong Together", które dla każdego fana rocka progresywnego jest pozycją obowiązkową; można je także ze spokojnym sumieniem polecić każdemu miłośnikowi dobrej muzyki. ---magazyngitarzysta.pl
download (mp3 @320 kbs):
uploaded yandex 4shared mega mediafire solidfiles zalivalka cloudmailru oboom