Pochwalone ‎– Koncert (2018)
Pochwalone ‎– Koncert (2018)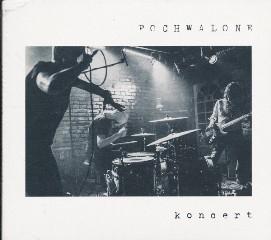 1 	Lokale 	
2 	Rybka 	
3 	Czarny War 	
4 	Adrianna 	
5 	Emanzipation 	
6 	Teraz Śpię 	
7 	Siostra 	
8 	Wianek 	
9 	Ballada 	
10 	Dzieweczka 	
11 	Bestia 	
12 	Fora

Maria Magdalena - vocals
Małgorzata Tekiel - bass
Dominika Korzeniecka - drums

Koncert odbył się 14.04.2017 w klubie Piękny Pies w Krakowie.

Eklektyczny radykalny fem-power-jazzy-punk (Kraków/ Sejny/ Warszawa). Grają w tercecie: bas, perkusja i wokal. Dotychczas wykorzystywały teksty funkcjonujące w tradycji ludowej i poezję tworzących współcześ nie poet ek polskich , a teraz sięgają również do poezji obcojęzycznej. Nieustannie o tym, co kobiet dotyczy i co je dotyka. Wspólnota doświadczeń, bunt przez pokolenia, moce, niemoce, zabawa i smutek. Nowe sensy na przecięciach. Różnorodnie muzycznie: czadowo i lirycznie, szybko i transowo, wrzaskliwie i melodyjnie - teraz więcej punka i transowego bitu, niż folku. ---poznan.naszemiasto.pl
POCHWALONE are your top choice when you are looking for musical and lyrical trips far beyond the usual everyday noise you are surrounded with, deep into the heart of independent women's acting and thinking.
They are a trio: bass, drums and vocals. And you do not miss guitars or anything like that. The rhythm section is absolutely enough, especially that good rhythm section. There are all sorts of bass sounds, from the regular solid bass line, through distortion up to wah wah. Drumming is jazzy, unpredictable and very sophisticated. The vocals are harsh and raw as everyday life for women out there in men dominated society.
This is a live recording from one year ago, and it sounds as if it was recorded in the studio. With this kind of music you are not counting on any studio effects that can hide your imperfections and position you spot on in the timeline of each track. With this music you are counting on 100% live performance, which is flawless, inspirational and thought provoking. And this is POCHWALONE.
Lyrically they use a mixture of contemporary women poetry and old folk songs orchestrated the punk way.
They are touring Europe so you still have a chance to see them today and tomorrow. You should. ---sanctuspropaganda.com
download (mp3 @320 kbs):