Cztery Refy - Cumy rzuć! Żagle staw! (1990)
Cztery Refy - Cumy rzuć! Żagle staw! (1990)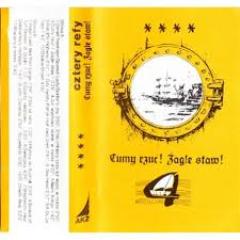 1. Dorset Forehand/Spanish Lady/Soldier`s Joy 
2. Hej chlopcy, czas juz wyjsc w morze 
3. Cumy rzuc! Zagle staw!
4. Już wypływa statek w morze
5. Marin Congo 
6. Ratcliffe Highway 
7. Gdy Sw. Patryk mial swoj dzien 
8. Gay Head 
9. A du le Taire 
10. Shallow Brown 
11. Pelgin Leitir Mor/Port Lairge
12. Sto lat temu 
13. Płyńmy do Australii 
14. Basket of Turf/ Streets of Dublin
15. Szanta śledziowa 
16. Świeczka 
17. Shepherds Hey/Dellahantey`s Hornpipe
18. John Dameray 
19. Lowlands 
20. O`Dowds Reel 
21. Wracamy z morza

W nagraniu udział wzięli:
Joanna Pędziwiatr, Jerzy Ozaist, Zbigniew Zakrzewski, Marek Michałowski,
 Jacek Drożdż, Wojciech Jędrzejczak, Maciej Łuczak i Jerzy Rogacki.

Kaseta zatytułowana "Cumy rzuć! Żagle staw!", to dziś jedna z najmniej znanych publikacji Czterech Refów. Mimo, że kilka utworów stąd znalazło się na późniejszych składankch ze wczesnymi utworami, to jednak szkoda, że ten układ utworów już się raczej nie powtórzy.
Czwarta kaseta Czterech Refów zawiera sporo znanych piosenek ("Cumy rzuć! Żagle staw!", "Gdy Św. Patryk miał swój dzień", "Płyńmy do Australii", "Świeczka" czy "Wracamy z morza") ale nie brakuje na niej też utworów mniej popularnych, a bardzo dobrych. Tu wymieniłbym przede wszystkim piękną balladę Mirosława Peszkowskiego "Już wypływa statek w morze", której korzenie sięgają pamiętnych Górek Zachodnich w 1977 roku. Na pewno warto by dziś odkurzyćtakie utwory jak "Lowlands", "Shallow Brown" czy "John Dameray", przydałoby się bowiem trochę mocnego, żeglarskiego śpiewania.
Na kasecie "Cumy rzuć! Żagle staw!" zespół kontynuuje pomysł przeplatania piosenek irlandzkimi melodiami ludowymi i wychodzi mu to bardzo zgrabnie. Polecam odgrzebanie tych nagrań. Choćby spod ziemi. ---Taclem, folkowa.art.pl
download (mp3 @128 kbs):
yandex 4shared mega mediafire uloz.to cloudmailru uptobox ge.tt