Mrozu - Vabank (2010)
Mrozu - Vabank (2010)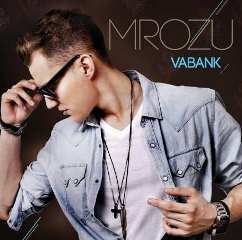 1.    "Vabank"
2.    "Wait up"
3.    "Unikalny kod"
4.    "Horyzont"
5.    "Globalnie" (featuring Waldemar Kasta)
6.    "Nigdy" (featuring Rytmus)
7.    "Miasto płonie"
8.    "Ctrl Alt Delete"
9.    "Ready to fly" (featuring Afromental)
10.    "Daj więcej"

"Vabank" to druga płyta Mroza, młodego, wrocławskiego wokalisty i producenta. Jego drugi album potwierdza że jest pełnym i utalentowanym artystą tworzącym muzykę na najlepszym światowym poziomie. Nowoczesne brzmienia, doskonałe melodie, ciekawe rozwiązania muzyczne to wszystko powoduje że "Vabank" jest doskonałym albumem, pełnym przebojów, melodyjnego R&B i niesamowitej wręcz energii.
Album "Vabank" to potwierdzenie i ugruntowanie pozycji Mroza na polskim rynku muzycznym, jako artysty wybitnego, pełnego pasji i miłości do tego co robi – do tworzenia muzyki. Na nowym materiale Mroza nie zabraknie gości - grupy Afromental, Waldemara Kasty i Rytmusa. Za nagrania wokali odpowiedzialne jest DBX Studio (Jacek Melnicki), zaś za miks i mastering Fonoplastykon (Marcin Bors). ---hiphopedia.info
download: uploaded yandex 4shared mediafire solidfiles gett mega zalivalka filecloudio anonfiles oboom
Last Updated (Sunday, 27 April 2014 20:13)