Batalion d'Amour - Fenix (2016)
Batalion d'Amour - Fenix (2016)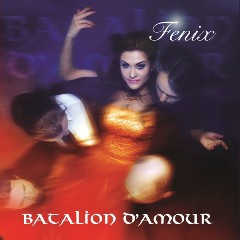 1. 	Bez nas 	05:56 	 
2. 	Charlotte 	05:10 	 
3. 	Między słowami 	04:29 	 
4. 	Zawróceni 	09:35 	 
5. 	Za granicą marzeń 	04:52 	 
6. 	Moje remedium 	04:43 	 (Featuring – Tomasz Grochola)
7. 	Ktoś całkiem obcy 	04:19 	 
8. 	Dwie prawdy 	05:45 	 
9. 	Zaklęty 	05:57 	 
10. 	The Lost Diary 	04:10 	 (Featuring – John Porter)
11. 	Mechaniczny 	04:35 	 

Piotr Grzesik - Bass, Vocals
Mariusz "Pajdo" Pająk - Vocals, Drums
Mirosław Zając - Keyboards
Robert Kolud - Guitars
Karolina Andrzejewska - Vocals 

Po bardzo pozytywnym odbiorze piątej w dorobku zespołu płyty "Niya" i świetnych recenzjach (jedna z najlepiej ocenionych płyt w 1 połowie 2006 roku w magazynie "Teraz Rock") nadszedł czas na kolejny krążek będący mieszaniną najlepszych elementów art-rocka, rocka gotyckiego i elektro-rocka. Jeszcze ciekawsze kompozycje w połączeniu z dotykającymi życia tekstami, ambitnymi liniami wokalnymi oraz mocnym i unikatowym głosem Karoliny Andrzejewskiej - pięknej i charyzmatycznej wokalistki, związanej z zespołem od roku 2001 - przeniosą słuchaczy na niespełna 80 minut w zupełnie inne miejsce.
Wisienką na torcie jest obecność wielu wspaniałych gości na płycie - znajdziecie tam m.in. Johna Portera w poruszającym duecie "The Lost Diary", a także Tomka Grocholę z Agressivy 69 w kolejnym, energicznym duecie, w utworze "Moje Remedium".
Słowo od wokalistki Karoliny Andrzejewskiej:
"Już sam tytuł naszego nowego albumu "Fenix" symbolizuje odrodzenie, dobrą energię, kreatywność i siłę – nie przez przypadek, gdyż powrót po latach na scenę muzyczną w naturalny sposób musi zaowocować burzą emocji, która przez lata nie znajdowała ujścia. Inspiracją albumu stały się różne sytuacje życiowe – każdy utwór opowiada inną historię, niesie ze sobą odmienne emocje, porusza inne problemy często zaczerpnięte z naszej rzeczywistości, które dotknęły lub dotykają każdego człowieka. Mamy głęboką nadzieję, że zarówno fani, jak i nowi odbiorcy poczują tą energię i odnajdą w naszej muzyce i tekstach cząstkę siebie." ---empik.com
Eleven long years after their last full-lenght, Niya, the Polish female fronted combo Batalion d'Amour returns among the living with their sixth album. If the band went through some major line-up changes in the past, current members are surprisingly the same as in 2005, but from the original line-up (note that this band was founded in 1989), remains only the bassist Piotr Grzesik and drummer Mariusz "Pajdo" Pająk. Batalion d'Amour released their debut album, Labirynt Zdarzeń, almost ten years after the formation, and at that time their style was typical dark wave/gothic rock, but soon after their sound got new dimensions, especially when the current singer Karolina Andrzejewska replaced Anna Blomberg-Gahan in 2001. Songs of the band got more depth, even more heaviness with addition of heavy riffs, but most of all everything became more subtle, catchy, romantic and with a high dose of sensibility.
As the band stated, the name of the album symbolizes rebirth, magic and creativity. Fenix consists of eleven original tracks plus four bonuses, and like in the past almost all of them, except one, have Polish lyrics, but believe me that this is just a plus to their already magical soundscapes. Karolina's captivating, dynamic, rich, yet romantic and highly emotive voice combined with Polish lyrics is so very flowing and soothing, for some listeners it might be also a bit exotic. Also the instrumental side, with many addictive parts, leaning now more than ever towards synth rock, gothic and even progressive rock/metal, with a huge dose of atmosphere and catchy pop melodies offers sometimes an otherworldy sonic experience. There's still present some dark wave and absolutely the band doesn't forget their roots in gothic rock, just listen to those typical sparkly gothy guitars and strong reverberate bass lines in almost every song, not to mention those gloomy synths and electronics that so smoothly deepens the whole ambiance.
The first two tracks, "Bez Nas" and "Charlotte", are nothing but mesmerizing hits that are so very addictive, catchy, with great melodies and rich ambiance that it'll be nothing strange if you'll start subconsciously to sing those choruses. Great vocals, intriguing guitar job, almost danceable rhythms, but still very emotional and melancholic. I was also moved by rather dark and climatic piece "Moje Remedium", where Karolina gets company by Tomasz Grochola from their country mates, industrial act Agressiva 69. Tomasz deep and dark voice perfectly suits Karolina's sensitive voice and together they offer such a fantastic vocal duet. As well the most experimental, yet very progressive with some driving heavy guitars and in its essence still dark song, "Mechaniczny", nicely shows that Batalion d'Amour are capable of crossing genre borders with style just to make their sonic output even more dramatic and intriguing. Oh, and how tender, vulnerable and almost erotic is the voice of Karolina, but as well how very haunting is the instrumentation in "Za Granica Marzen", absolutely beautiful. All of these elements are then perfectly blended together in the epic "Zawróceni" which is more than nine minutes long composition. As well the groovier tracks like "Miedzy Slowami" and "Ktos Calkiem Obcy" are quite elegant and add a lot to the dynamics of this album. There are some mellow tracks, one of them is a try with English lyrics in the sensual, with a celtic scent, acoustic ballad "The Lost Diary", which features John Porter as Karolina's duet partner, and also typical gothic/pop rock in "Dwie Prawdy" could be more elaborated. But ok, I'm fine even with this, it's not that those songs are bad in any way, but the band set the standards so very high with previously mentioned highlights.
The album ends with four bonus songs that are all alternate versions of the hit single "Charlotte". One is a nice acoustic version, the next one is an English version of the song, where the band finally shows that they can make great songs also with English texts, plus there is an interesting dancefloor mix of the song done by Pawel Penarski, who's the author of remixes of such famous artists like Ellie Goulding, and in the end the shortened radio edit of it. If the band put a lot of effort in those compositions, unfortunately I must give some critics to the front cover artwork, it's just too simple and it doesn't reflects the music as it should, but on the other side the inlay, the twenty page booklet is done just fine, where beside nice artwork the band inserted English translations of all lyrics. All in all, Fenix is a great return for Batalion d'Amour and I hope that we'll not have to wait another ten or more years for the next release. Fenix is an addictive and captivating storm of beautiful yet refreshing dark rock music! Believe me that it'll be a huge mistake if you'll miss this album. ---T.V., terrarelicta.com
download (mp3 @320 kbs):
yandex mediafire ulozto gett bayfiles