Moonlight - Candra (2002)
Moonlight - Candra (2002)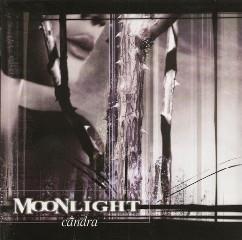 1 	Ronaa 	4:04
2 	Luna II 	4:16
3 	Meren-Re 	4:45
4 	Dialog Ciała 	5:56
5 	Zobaczyć Siebie 	4:22
6 	Asuu 	13:25
7 	Luna 	4:52
8 	Dobranoc 	4:08

Bass, Baritone Guitar – Michał Podciechowski
Drums, Percussion – Maciej Kaźmierski
Guitar – Andrzej Kutys
Keyboards – Daniel Potasz
Vocals – Maja Konarska 
+
Cello – Agnieszka Żygadło (tracks: 8)
Guitar, Baritone Guitar, E-Bow – Marcin Bors
Keyboards – Gienia
Viola – Paweł Brzychcy (tracks: 8)
Violin – Małgorzata Kogut (tracks: 8)
Vocals – A.Ch. Hejne (tracks: 1)

Z zespołem Moonlight zetknąłem się pierwszy raz podczas koncertu Pendragona w zabrzańskim Domu Muzyki i Tańca 23 listopada 1996 r., kiedy to występowali jako support. Określano ich wtedy mianem zespołu gotycko-romantyczno-metalowego. Drapieżniejsze brzmienia kompozycji z Kalpa Taru (który to krążek natychmiast nabyłem podczas koncertu) trochę niemile zaszokował niektórych fanów Pendragona, niemniej dla mnie było to nader przyjemne przeżycie. Debiut Moonlight do dziś zresztą pozostaje moją ulubioną pozycją z dorobku grupy, która w miarę kolejnych albumów stopniowo zmieniała swe muzyczne oblicze - zawsze jednak wzbudzając zainteresowanie publiczności art-rockowej. Jest to zresztą nader zastanawiające w kontekście serwowanej twórczości - z formalnego punktu widzenia gdzieś tam ocierającej się o manierę progresywną, ale przecież podążającą w wielu innych kierunkach.
Dziś przypadło mi w udziale skreślenie kilku słów o płycie jak dotąd ostatniej i jest mi z tego powodu nader przyjemnie.
Candra rozpoczyna się dosyć ciężko tudzież zgiełkliwie biorąc pod uwagę zawartość całości - linie wokalne Maji nadają jednak kompozycji firmowego wygładzenia, stanowi to udany kontarst w stosunku do wysiłków sekcji instrumentalnej. Luna II jest już aranżacyjnie znacznie mniej zakręcona i nawet przesterowany momentami głos wokalistki nie odbiera tej kompozycji cechy dość typowej Moonlightowskiej piosenki nie silącej się na jakieś większe ambicje. Trzeci w kolejności track przypomina o obsesyjnym (począwszy od drugiego krążka) pomyśle utworów skupionych wokół postaci Meren-Re. Wybrzmiewa bardzo przyjemna balladka z owym onirycznym akcentem w głosie Maji - techniką często i z powodzeniem stosowaną. Prawdę mówiąc, jak do teraz, Candra niczym szczególnym mnie nie zaskoczyła ni też specjalnie nie zachwyciła, niemniej oto wchodzi Body Dialogue. Znów charakterystycznie zwiewne zwrotki, po których jednak następuje mocny i prześliczny wokalnie refren - niby też nie jest to nic szczególnie wydumanego acz chwyta za serce. Końcówka kawałka zwiastuje ciągoty w kierunku frapującego ambientu, który zostanie jeszcze rozwinięty na tym krążku. Jakby dla uspokojenia To See Yourself niemal w całości opiera się na dobrze znanych wokalnych harmoniach Maji - znów Moonlight z wybitnie odciśniętą, firmową pieczęcią. Było nieco sztampowo? Sztampa się kończy wraz z Asuu. Dziwny, industrialny ambient na początek, potem klawiszowe zagrywki o odcieniu delikatnie psychodelicznym, wreszcie, kolejny raz, przesterowany wokal, wielkie zawirowania dynamiczne - brzmi to jak niebanalna, progmetalowa suita i to z gatunku tych lepszych. Troszkę repetycji jako przyprawa do budzącego szacunek dania. Jestem pod wrażeniem, choć styl gitary (gdyby jeszcze spotężnić brzmienie) jakoś tak kojarzy mi się z panem Matheosem (może to i dobrze :-) Po tym małym szaleństwie album powraca na znajome ścieżki. Bardzo podoba mi się klawiszowy podkład w Luna - uwielbiam takie "pulsujące" plamy tworzące niby li tylko tło. Zespół poznaje się nie po tym jak zaczyna, ale jak kończy - finał Candra godzień jest wielu zachwytów. Smutna, znana już ballada snuta przez Maję na tle cudownego podkładu smykowego i tak robi spore wrażenie.
To już naprawdę koniec? - dobrej nocy Meren - Re, byłaś z nami tak długo, niemniej to może być koniec. Wczuty w klimat chwili mógłbym jeszcze napisać kilka okołomuzycznych wersów, ale właściwie po co? - "Słowa choć mają ambicję tworzenia... to tylko słowa". Nie napiszę już nic więcej. ---Dobas, artrock.pl
They continue with the English vocals that they first started on their previous album, although there are Polish vocals on one track. This is a definite improvement over their last album and for the first time they offer up a long proggy tune at 13 1/2 minutes. Some good variety here and more atmosphere than ever.
"Ronaa" opens with experimental sounds before the song kicks in with vocals. This one rocks. Check out the guitar when the vocals stop briefly. It's heavy duty late. Great start. "Luna II" is much more laid back although it turns fuller before a minute. It settles back as contrasts continue. Man she sounds good on this record. "Meren-Re" opens with drums and guitar as reserved vocals join in. The guitar sounds so good as it's picked like on BAUER's debut. Love that sound. "Body Dialogue" opens with bass and picked guitar as keys join in. It's building. Reserved vocals a minute in. It kicks in after 2 minutes as contrasts continue. It ends in an experimental way.
"To See Yourself" is the only Polish sung track. It's DEAD CAN DANCE- like to start with those vocal melodies that come and go. Vocals come in as well. Piano after 2 minutes. "Asuu" is the epic.It opens with atmosphere as loud experimental sounds come in. PORCUPINE TREE-like synths come in around 2 1/2 minutes. Vocals a minute later are almost spoken. It's heavier 6 1/2 minutes in. Some nice drum work 8 1/2 minutes in followed by some grinding guitar. Nice ! I love when the vocals return. It settles 12 1/2 minutes in to the end in a dark and experimental manner. "Luna" opens with vocals and thick atmosphere. Drums a minute in. Guitar before 4 minutes. "Goodnight" features some guest strings that continue throughout with emotional vocals. A moving track. ---Mellotron Storm, progarchives.comdownload (mp3 @320 kbs):
yandex mediafire ulozto gett bay files
Last Updated (Friday, 15 November 2019 16:18)