Boogie Chilli - Live Time Blues (2006)
Boogie Chilli - Live Time Blues (2006)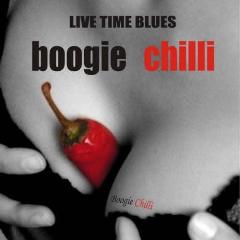 01.Boom Boom
02.Standing Around Crying
03.This Is Hip
04.Baby Please Don't Go
05.Walking Blues
06.Crawlin' Kingsnake
07.Crossroads Blues
08.Sinner's Prayer
09.Who Do You Love
10.Ramblin' On My Mind
11.Help Me
12.One Bourbon, One Scotch, One Beer

Musicians:
    Maciej Sobczak - guitar, vocals
    Janusz Siemienas - guitar
    Leszek Paech - harmonica
    Andrzej Kubiak - drums
    Robert Fraska - bass

Boogie Chilli – words which seemingly don't go well together. Boogie is associated with something out of date, music which dominated on stages tens of years ago. Chilli, in turn, suggests freshness, sharpness and truculence. However, Boogie Chilli is a symbiosis of these two words which explodes with uncommon power on stage!
Boogie Chilli was formed in 2002 in Poznań by experienced musicians: Maciej Sobczak (guitar), Robert Fraska (bass), Janusz Siemienas (guitar) and Andrzej Kubiak (percussion). First two of them play in Hot Water also, the rest in Wielka Łódź. After a year the group grew bigger because of Leszek Paech, harmonica player's joining.
Wielka Łódź's blues experience as well as Hot Water's blues and rock wisdom formed unusual stylistic synthesis. It means esteem to blues and rock tradition on the one hand and continuous willingness to experiment on the other. That's why the group is a big concert attraction – tunes, played by Boogie Chilli, sound different every time as artists adore improvising and developing their music in often completely unexpected direction. What is more, listeners may find here worship of harshness and uncleanness which can be almost associated with grunge sound from early nineties.
Apparently typical rock instruments (two guitars, bass, percussion and harmonica) are also interesting, because one of the guitars is known as 'dobro' and the second one as 'slide'. ---last.fm
Boogie Chilli jest to formacja powołana do życia 2002 roku w Poznaniu. Muzycy jednak w środowisku są zdani od bardzo dawna. Wcześniej udzielali się w Wielkiej Łodzi i rockowej formacji Hot Water. "Live Time Blues" jest to ich debiutancka płyta wydana dla wytwórni Flower Records w roku 2006. Co można powiedzieć o samej płycie? Już nazwa zespołu mówi dużo – muzyka boogie spod znaku John Lee Hookera, w połączeniu z listą utworów – 12 standardów... i wiemy co nas czeka. Płyta jest naprawdę dobra, od pierwszej sekundy do ostatniej minuty zapewnia odbiorcy pozytywne wrażenia. Boogie Chilli nie silili się na zbudowanie nowych utworów, zostawiając tylko tekst. Fundament wszystkich utwórów na płycie jest ten sam co w wykonaniach oryginalnych, jednak można dopatrzeć się pewnych większych, bądź mniejszych zmian, niewątpliwie dodających płycie atrakcyjności. Po kilkakrotnym przesłuchaniu całej płyty mam swoich faworytów. Do miana "utwór numer jeden na płycie" obstawiałbym Baby Please Don't Go, klasyczny Crossroads Blues Roberta Johnsona lub Help Me. Przesłuchując ten materiał mam wrażenie, że muzycy idealnie się dobrali, nie mając słabych punktów. Wyraziście gra sekcja rytmiczna, harmonijkarz gra troszkę za oszczędnie, ale może to dobrze. Jednak to, co przykuło moją uwagę to znakomita gitara slide dodająca niewątpliwego smaczku całej płycie. Moim zdaniem udany debiut, nie ma większych zastrzeżeń do płyty. Warto odwiedzić ich stronę internetową i zamówić tę pozycję, a także obowiązkowo trzeba wybrać się na ich koncert. Z niecierpliwością czekam na kolejną ich produkcję, mam również cichą nadzieję, że na kolejnej płycie znajdzie się już materiał autorski. ---Michał Orłowski, musicserwis.com.pl
download:  uploaded anonfiles yandex 4shared solidfiles mediafire mega gett filecloudio nornar