Blade Loki ‎– ... No Pasaran (2006)
Blade Loki ‎– ... No Pasaran (2006)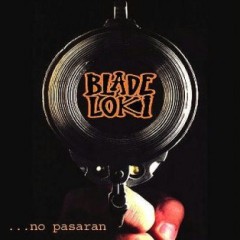 1.Intro – 0:26
2.No pasaran – 2:46
3.Toxic – 2:42
4.Bombardier – 2:24
5.Krystyna nie lubi ministra – 3:53
6.Wznieśmy pięści – 4:26
7.Październik albo wrzesień – 4:00
8.Skaramanga – 2:41
9.Czarne golfy – 3:07
10.Prosta historia – 3:07
11.Nocny – 5:37
12.Jestem jak plus – 3:38
13.You can be! (możesz zostać!) – 5:41

Agata Polic - vocals
Andrzej Dudzic – bass
Twurca – guitar
Norbas – keyboards
Daniel Wrona – trombone
Lisu  - trumpet
Jarek "Jaras" Dudrak – drums
Roman "Felek" Felczyński - backing vocals

Zacznę od tego, że to najlepiej nagrana polska płyta punkrockowa, jaką słyszałem (Legendy nie liczę). Pełne, selektywne i dynamiczne zarazem brzmienie. Dobre gitary, mocna perkusja, czytelny śpiew... A dodatkowo zgrabnie wkomponowane dęciaki. Wybaczcie zachwyty, lecz w tej stylistyce to rzadkość zasługująca na uznanie najwyższe.
Mamy więc fajne opakowanie - nie rozczarowuje zawartość. W porównaniu z albumem Psy i koty mniej tu wyraźnych nawiązań do reggae i ska. Jeśli już, przeplatają się płynnie z melodyjnym czadem, co przywodzi na myśl dokonania amerykańskich grup w rodzaju Less Than Jake czy Reel Big Fish. Co nie znaczy, że zabrakło fajnego, lokalnego kolorytu. W warstwie gitarowej wyraźnie słychać zagrywki Brylewskiego z czasów Armii (No pasaran), z kolei wokalistka potrafi zbliżyć się do... Kory (Nocny).
Kolejny plus za teksty. Jeśli polityka, to niedosłownie. Jak w Krystynie, z żartobliwą parafrazą historycznej wypowiedzi Lecha Wałęsy (ręki i nogi nikomu nie podam/ poobrywam lusterka w ich samochodach). Z drugiej strony przejmuje opis gwałtu czy też morderstwa widziany z perspektywy ofiary (Październik albo wrzesień). A potem rozbawić może opis przeciwnika Jamesa Bonda z filmu Człowiek ze złotym pistoletem (Skaramanga)...
W normalnym kraju Blade Loki miałyby status, powiedzmy, grupy Green Day. Tu pozostaje liczyć na wyczucie co bardziej dociekliwych słuchaczy. Nie tylko z punkowego kręgu. ---punkshop.pl
download (mp3 @320 kbs):
yandex mediafire uloz.to cloudmailru gett