Myslovitz – Sun Machine (1996)
Myslovitz – Sun Machine (1996)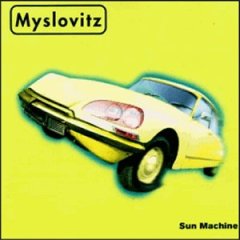 01. Peggy Brown
02. Blue Velvet                    play
03. Z Twarza Marylin Monroe    play
04. Jim Best
05. Amfetaminowa Siostra
06. Pierwszy Raz (z Michelle J.)
07. Bunt Szesnastolatki
08. Funny Hill
09. Historia Jednej Znajomosci
10. Good Day My Angel
11. Memory Of A Free Festiwal

Skład:
* Artur Rojek - śpiew, gitara
* Wojtek Kuderski - perkusja
* Jacek Kuderski - gitara basowa
* Wojtek Powaga - gitara
* Przemek Myszor - gitara
W utworze "Good Day My Angel" śpiewa Ian Harris. 
Gościnnie wystąpił Andrzej Smolik.

Sun Machine – album zespołu Myslovitz, wydany w 1996 roku. Jest pierwszą nagraną w powiększonym składzie (doszedł Przemysław Myszor). Album zamyka cover piosenki Davida Bowiego "Memory of a Free Festival", z którego to utworu pochodzi tytuł całej płyty. Zespół otrzymał za ten album "złotą płytę" oraz został nominowany do "Fryderyka".
download:   uploaded ziddu 4shared yandex
Last Updated (Friday, 09 November 2012 16:25)