Kult – Posluchaj To Do Ciebie (1987)
Kult – Posluchaj To Do Ciebie (1987)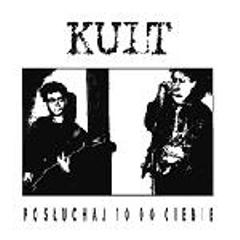 1. Piosenka mlodych wioslarzy
   2. Piloci
   3. Do Ani
   4. Polska
   5. Babilon
   6. Taniec wielki
   7. Wodka
   8. Hej, czy nie wiecie
   9. Post
  10. Kult
  11. Totalna stabilizacja
  12. Narodzeni na nowo
  13. Umarl moj wrog
  14. Elektryczne nozyce
  15. Spokojnie
  16. Rozmyslania wychowanka
  17. (Gdziekolwiek ide) z toba chce isc
  18. Wodka II

Muzycy:
    Kazik Staszewski – saksofon, programowanie perkusji, instrumenty klawiszowe, śpiew
    Janusz Grudziński – gitara, instrumenty klawiszowe, wiolonczela, śpiew
    Ireneusz Wereński – gitara basowa
    Paweł Szanajca – saksofon
    Tadeusz Kisieliński – perkusja
+
    Kostek Joriadis – trąbka, kongi, cow-bells, instrumenty klawiszowe
    Jacek Kufirski – programowanie perkusji, gitara

Drugie wydawnictwo zespołu Kazika Staszewskiego. Zawiera takie utwory jak "Wódka", czy "Hej, czy nie wiecie". Na albumie znajduje się również jedna piosenka w języku angielskim, choć tytuł jest zapisany po polsku - "Gdziekolwiek idę, z tobą chcę iść".
Na płycie są m.in ballady rockowe i to takie, jakich po Kaziku trudno się było spodziewać. A wiele było deklaracji zespołu dotyczących tego, że nie umieją grać. Warto rzucić uchem na te ballady, a wśród nich "Umarł Mój Wróg" - przewrotna piosenka, w której mnóstwo kontrargumentów dla tych, którzy uważają, że współczesny rock to kolokwialne teksty o prawdach objawionych, tyle, że podane w sposób szokujący.
W swoich dążeniach do "surowości" brzmienia albo programowo założonej abnegacji, saksofony Kultu brzmią jak w afrykańskich zespołach spod znaku Osibisy. I te różne dodatki. A to dziecko coś powie, a to "scratch" rodem z czarnej dyskoteki. Świetny klimat.
W 1992 pojawiła się reedycja CD, na której dodano utwory z singla "Piloci / Do Ani", "Piosenkę młodych wioślarzy" ze składanki Tonpressu, utwory odrzucone w 1987 roku przez cenzurę i inną wersja "Wódki". Do utworów "Piosenka młodych wioślarzy" i "Polska" stworzono teledyski. Okładkę płyty zaprojektował Piotr Mateńko wraz z Piotrem Zambrowiczem. --- muzyka.wp.pl
download:  uploaded ziddu gett 4shared divshare
Last Updated (Monday, 31 December 2012 16:35)