Acid Drinkers - Dirty Money, Dirty Tricks (1991)
Acid Drinkers - Dirty Money, Dirty Tricks (1991)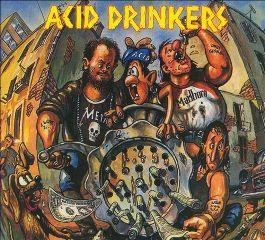 01. Are You A Rebel?
02. Too Many Cops
03. Acid Drinkers
04. Smoke On The Water
05. Yahoo
06. Max - He Was Here Again
07. Ziomas
08. Traditional Birthday
09. Dirty Money, Dirty Tricks
10. Angry And Bloody
11. Street Rockin'
12. We Gotta Find Some Power
13. Don`t Touch Me
14. Zorba
15. Flooded With Wine - Acid Drinkers

Titus - Vocals, Bass
Litza - Lead Guitar, Acoustic Guitar, Backing Vocals
Popcorn - Lead Guitar, Backing Vocals
Mangood - Drums, Backing Vocals

Gdy rozmawiam z fanami Acid Drinkers na temat "Dirty Money, Dirty Tricks" odnoszę wrażenie, że jest to płyta, która dzieli fanów tej formacji. To chyba jedyny album "Kwachów", przy którym pojawiają się tak skrajnie odmienne opinie. Chociaż właściwie nie ma się co dziwić. W końcu opinia jest jak dziura w dupie, każdy ma swoją.
Następcą debiutanckiego "Are you A Rebel?" jest album zasadniczo rózniący się od swojego poprzednika. Tutaj nie usłyszymy już gitar brzmiących jak przelatujące komary lub potrząsane pudełka od zapałek, a trashowe wymiatanie słyszalne jest zaledwie w tle. To właśnie dlatego zdecydowana większość fanów przyzwyczajonych do debiutu Poznaniaków po pierwszym przesłuchaniu odstawiła "Dirty Money...".
Gdy mamy do czynienia z brudną forsą i brudnymi sztuczkami, uderza w nas iście hard rockowe granie. To własnie na tej płycie ujawianiją się fascynacje muzyków dokonaniami m.in. The Rolling Stones czy Deep Purple. Bardzo szybkie tempo zostało świetnie połaczone z klasycznymi gitarowymi zagrywkami. Świadczą o tym chociażby "Are You A Rebel?" i "Acid Drinker". Mocnym punktem płyty są także świetne solówki, w których uwidacznia się pomysłowość i nieprzewidywalność Drinkersów. Raz kawałek rozpoczyna niezła gitarowa zagrywka - "Ziomas", raz szeleszczcy bas - "Dirty Money, Dirty Tricks", a w innym przypadku bębny - "Max - He Was Here Again". W tym momencie mamy do czynienia z paradoksem. Jak się okazuje, materiał skomponowany w trzy miesiące jest o wiele bardziej skomplikowany i pokombinowany pod względem aranżacyjnym, niż debiutancki krążek, którego zawartośc powstawała przez blisko trzy lata.
Najmocniejszymi punktami tego albumu są niewątpliwie "Street Rockin'" z kapitalnym riffem, a także "Smoke On The Water" - chyba najbardziej zwariowana przeróbka utworu Deep Purple oraz "Dont't Touch Me". Nie można oczywiście zapomnieć pierwszej, w całości wolnej kompozycji w repertuarze Acid Drinkers, czyli "Flooded With Wine". Całość materiału przeplatana jest charakterystycznym kwaśnym humorem. Muzyczne żarcicki z "Yahoo" i "Traditional Birthday" na czele potrafią powalić.
Podsumowując ten album, Titus stwierdził, że jest to The Rolling Stones pomieszane ze Slayerem, a całość zawiera o pięć piosenek za dużo. No coż, można się zgodzić lub polemizować. Pewne jest jedno. Nie należy przechodzić obok tej płyty obojętnie. --- Kamil "Mardok" Mrozkowiak, rockmetal.pl
download (mp3 @320 kbs):
yandex mediafire cloudmailru uloz.to ge.tt
Last Updated (Sunday, 07 July 2019 21:36)