Abraxas – Abraxas (1996)
Abraxas – Abraxas (1996)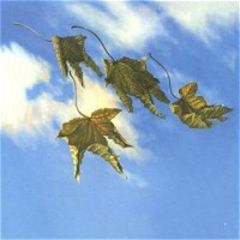 1. Before (1:49)
2. Tarot (8:30)
3. Dorian Gray (5:55)
4. Kameleon (4:30)
5. Alhambra (8:25)
6. Inferno (5:12)
7. Ajudah (9:07)
8. De Profundis (4:56)
9. Tabula Rasa (11:15)
Bonus tracks on remaster (2000):
10. La Strada (3:39)
11. Gdy Wydaje Niemożliwym Się Pamiętać (7:19)

- Marcin Mak - drums
- Rafał Ratajczak - bass
- Szymon Brzeziński - guitars
- Marcin Błaszczyk - keyboards, flute
- Adam Łassa – vocals

Abraxas - polska neoprogresywna grupa rockowa powstała w 1987 w Bydgoszczy. Nazwę zespół zaczerpnął z powieści Hermanna Hessego pt. Demian, w której Abraxas był bóstwem sił dobra i zła, przenikających się wzajemnie.
Zespół wypracował swój niepowtarzalny styl, na który składały się: charakteryzująca się przemiennymi nastrojami i zaskakującymi zmianami rytmu muzyka, rozbudowane i wysmakowane aranżacje, kontrowersyjne, pełne odniesień do literatury poetyckie teksty, niezwykle charakterystyczny głos, maniera śpiewania i charyzma wokalisty oraz teatralne stroje i wykorzystywanie przezroczy na koncertach. Jedne z najbardziej znanych utworów Abraxas to: Tarot, Dorian Gray, Kameleon, Pokuszenie, Jezebel, Medalion. Zakończył działalność pod koniec 2000 roku. --- tekstowo.pl
ABRAXAS was born on 29 October 1987 in Bydgoszcz when Adam Łassa (vocals) and Łukasz Święch (guitar) found the right name for their band. And as in Hermann Hesse's novel "Demian" Abraxas was the god of good and evil forces, penetrating each other, so it soon turned out that this dualism became the distinguishing mark of the band. Alternating moods, sudden rythm changes, controversial lyrics, very good arrangements and unique harmony are what characterised the style of ABRAXAS. They gave some concerts beside a couple of stars of those days like ZIYO or REZERWAT and started to dream about their own album and of course about fame. But deepening crisis within the band appeared and it broke up after two years of existence in 1989. Silence lasted two years.
In 1991 the band was resurrected with new members who were Mikołaj Matyska (drums), Krzysztof Pacholski (keyboards), Rafał Ratajczak (bass) and Radek Kamiński (guitar). In this period a great number of songs were composed many of which were to appear on the first album of ABRAXAS. However in October 1992 Łukasz Święch left the band and it ceased to exist once again. When on a rainy day in July 1993 Radosław Kamiński was killed in a car accident it seemed to be the definite end...
But the best times for ABRAXAS were yet to come! On Adam Łassa's initiative in 1994 the last trial to bring the band back to life was made. This way appeared the third incarnation of the band with the lineup consisting of Adam Łassa (vocals), Szymon Brzeziński (guitar), Marcin Mak (drums), Marcin Błaszczyk (keyboards) and Oleg Bałtaki (bas), who was soon replaced by Rafał Ratajczak.
The year 1995 was a year of intensive work. Finally in 1996 the band recorded their debut album titled "Abraxas... Cykl obraca się. Narodziny, dzieciństwo pełne duszy, uśmiechów niewinnych i zdrady..." and the best period for the band became a fact. They appeared on stage performing beside such internetional stars as Fish, Porcupine Tree or Robert Plant & Jimmy Page.
In 1998 they issued their very well received second album "Centurie" and it's english version called "Prophecies". Around the same time Szymon Brzeziński and Marcin Błaszczyk took part in recording of a solo album of Colin Bass followed by european tour summed up by a concert album "Colin Bass live at polskie radio 3".
The year 1999 brought a new album titled... "Abraxas 99" (again in polish and english versions) and in 2000 the band issued a live album "Live in Memoriam". Nonetheless the same year ABRAXAS dissolved again and hasn't reactivated up to this day (only once in 2004 in Bydgoszcz to play before IQ) --- Bartłomiej Ślązak (aka Tuzvihar), progarchives.com
download (mp3 @256 kbs):
yandex mediafire mega uloz.to ge.tt
Last Updated (Sunday, 07 July 2019 20:28)