Edyta Geppert – Wierze Piosence (2002)
Edyta Geppert – Wierze Piosence (2002)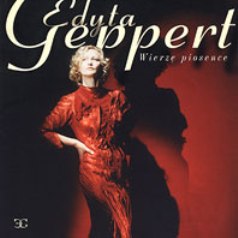 1.To sie nie sprzeda Pani Geppert 
2.Nie wierze piosence
3.Nie wierz mi
4.Cien ksiezyca 
5.Niewyslowiona 
6.Pamietna wycieczka 
7.Zdradzonym i bezbronnym 
8.Dzien pierwszy
9.Niekochane dziewczyny
10.Jaka roza taki ciern
11.Nie jest zle
12.Jak to dobrze, ze to tak 
13.Nietutejsza
14.Na Krakowskim czy w Nohant

Wykonawcy:
Edyta Geppert - śpiew
Krzysztof Herdzin - fortepian, instrumenty klawiszowe,
Cezary Konrad - perkusja, instrumenty perkusyjne,
Piotr Żaczek - gitara basowa
Marek Napiórkowski - gitary,
Mariusz "Fazi" Mielczarek - saksofony, flet, klarnet,
Sebastian Sołdrzyński - flugelhorn,
Klaudiusz Baran - akordeon, bandoneon.

Kwartet smyczkowy: 
Grzegorz Lalek - skrzypce, Michał Kłosiewicz - skrzypce, Piotr Szumieł - altówka, 
Tomasz Błaszczak - wiolonczela.
Chórek towarzyszący (7,10): 
Ola Bieńkowska, Dorota Miśkiewicz, Hanna Stach, Jacek Kotlarski.
Chórek perswadujący (1): J
acek Cygan, Włodzimierz Korcz, Piotr Loretz, Wiesław Pieregorólka.

Na płycie "Wierzę piosence" utwory lekkie i żartobliwe przeplatają się z refleksyjnymi i dramatycznymi. Teksty znakomitych autorów: Jacka Cygana, Marka Dagnana, Jadwigi Has i Asi Łamtiuginy zostały oprawione muzyką tak renomowanych kompozytorów jak: Włodzimierz Korcz, Seweryn Krajewski, Andrzej Rybiński czy Tadeusz Woźniak.
Płyta zawiera również poetycki tekst legendarnego czeskiego barda Jaromira Nohavicy w tłumaczeniu Renaty Putzlacher-Buchty i przebojową kompozycję, specjalnie napisaną dla Edyty przez Jej francuskiego przyjaciela Rogera Candy (jego piosenki Artystka nagrała wcześniej na płycie "Follow The Call") oraz trzy rodzime tzw. evergreeny: "Nie wierzę piosence" z tekstem Bronisława Broka i muzyką Władysława Szpilmana,"Jak to dobrze, że to tak" z tekstem Andrzeja Bianusza i muzyką Romana Orłowa i własny, kultowy przebój "Jaka róża taki cierń" z tekstem Jacka Cygana i muzyką Włodzimierza Korcza w zaskakującej, pięknej, wydobywającej niezwykłe bogactwo muzyczne, aranżacji Krzysztofa Herdzina. --- empik.com
download:  uploaded 4shared ziddu yandex
Last Updated (Tuesday, 23 October 2012 22:39)