Magda Piskorczyk - Blues Travelling (2005)
Magda Piskorczyk - Blues Travelling (2005)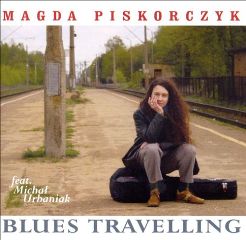 1. Help Me
2. Darkness on the Delta
3. I Want Jesus to Walk with Me
4. Nothin' Like You Used to Do
5. Miss Celie's Blues
6. Lonely Avenue
7. I've Got the Blues and I Can't Be Satisfied
8. Keep Your Lamp Trimmed and Burning
9. I'd Rather Go Blind
10. Get Back
11. Work Song
12. Wild Women Don't Have No Blues
13. Temptation
14. Canned Heat
15. Trouble in Mind
16. I Let My Daddy Do That

Musicians:
Magda Piskorczyk - Dobro, Double Bass, Drums, Guitar, Lyricist, Producer, Vocals
Michal Urbaniak – violin

Magda's music is her own tasteful arrangement of blues, gospel, soul, jazz and rock standards as well as modern songs inspired by these genres. She creates the music which is deeply set in the blues tradition and is innovative at the same time.
Magda's low, deep, "black" voice suits perfectly blues as well as swing or African melodies, which are also very appealing for Magda. Joy and humour, great emotions and energy are mixed with deep message, melancholy, moving sincerity. Unusual usage of a saxophone, dobro and other guitars, percussion or other instruments, mixed with her very expressive voice make this music unique and captivating. She regularly involves the audience in collective singing, emotional shouting, clapping hands or snapping their fingers. "Her music is original but not strange. Faithful to the roots and modern. Very modest but full of emotions at the same time", stated Blues Radio. ---cdbaby.com
Magda Piskorczyk - wokalistka i instrumentalistka obdarzona niepowtarzalnym timbre głosu. Swoją przygodę ze śpiewaniem rozpoczęła w zespole blues-rockowym, jednak los chciał by najpełniej objawiła się w repertuarze blues, gospel czy smooth jazz. Szerszej publiczności Magda zaprezentowała się w listopadzie 2001 roku na festiwalu Jesień z Bluesem w Białymstoku gdzie wraz ze swoim ówczesnym zespołem zdobyła Grand Prix. Podczas swojej krótkiej, acz intensywnej obecności na scenie bluesowej, Magda poszczycić się może sformowaniem kilku składów towarzyszących i zaproszeniem do współpracy wielu doświadczonych muzyków (Michała Kielaka - harmonijka, Arkadiusza Osenkowskiego – saksofon tenorowy, Pawła Zająca – gitara) Rok 2002 przyniósł ze sobą udział we wszystkich większych festiwalach bluesowych w Polsce, jak i występ przed samym Louisiana Red'em, na prestiżowym Blues Alive w Sumperku (Czechy). W roku 2003 obok bluesowej intensywnej działalności koncertowej Magda dzięki wsparciu przyjaciół z Rawy Mazowieckiej i zaprzyjaźnionych muzyków mogła zrealizować projekt pieśni gospel, który odbył się w kościele Ewangielicko-Augusburskim w Rawie Mazowieckiej.
W 2005 roku Magda zakwalifikowana została do udziału w największym międzynarodowym konkursie bluesa - International Blues Challenge w Memphis. Tak oto skomentowano Magdę za Wielką Wodą: " Największe z ostatnich odkryć w aktywnym i ekscytującym polskim bluesie. (...) Ta dziewczyna musi naprawdę kochać bluesa. Tak młoda i ze Wschodniej Europy! Doskonała! Ona jest lepsza niż wielu amerykańskich śpiewaków bluesowych!". Za sukcesami festiwalowymi przyszło uznanie czytelników branżowego pisma Twój Blues, którzy dwukrotnie (w latach 2003 i 2004) przyznali Magdzie tytuł "Bluesowej Wokalistki Roku". Deklaracja drogi muzycznej pozwoliła na nawiązanie współpracy z czołówką polskiej i światowej sceny bluesowej, by nadmienić tylko Deborah Coleman, Boba Margolin'a, czy z polskich: Wojciecha Karolaka, Leszka Windera, Jurka "Kawy" Kawalca, Leszka Cichońskiego czy Jerzego Styczyńskiego.
Kolejnym wielkim krokiem jest wydanie płyty "Blues Travelling" nakładem firmy MTJ, nagranej przy współudziale wielkiej osobowości muzycznej Michała Urbaniaka, który będąc pod urokiem jak sam powiedział "bestialskiej prawdziwości" Magdy, zgodził się służyć radą i pomocą przy jej realizacji. --- wsm.serpent.pl
download:  uploaded gett 4shared ziddu divshare