Ania Szarmach - Shades Of Love (2016)
Ania Szarmach - Shades Of Love (2016)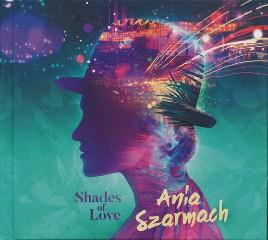 1 	Rolling Stones (Featuring – Frank McComb)
2 	Gaze 	
3 	By Your Side 	
4 	Shades of Love 	
5 	Walkin' 	
6 	Kef 	
7 	Witch 	
8 	After War 	
9 	City Of Music 	
10 	N.G.S (Featuring – Marcin Wasilewski)
11 	Kiss Me (Featuring – Adam Bałdych)
12 	Gdzie Jest Ta Miłość (Featuring – Marcin Wasilewski)

Ania Szarmach - vocals
Grzegorz "Jabco" Jabłoński - keyboards, Hammond organ, percussion
Damian Kurasz - guitar
Piotr Żaczek - bass
Robert Luty - drums percussion
Maciej Goliński Envee - scratches, electronics
Katarzyna Dereń - vocals
+
Frank McComb - vocals, keyboards
Marcin Wasilewski - piano
Adam Bałdych - vocals

Nienaganny język angielski, doskonały głos, ciepła i eteryczna barwa, puls, pasja i fenomenalne poczucie rytmu. "Shades Of Love" to pierwsza od czterech lat produkcja Ani Szarmach – dopieszczona, wymuskana i wyczekiwana. Krążek ten broni się każdą z dwunastu umieszczonych nań kompozycji. Wszystko otwiera rewelacyjny Rolling Stones, w którym jako gość pojawia się Frank McComb. Jego obecność na tej płycie jest nieprzypadkowa, od lat artyści spotykali się na wspólnym muzykowaniu i kilku koncertach. Efekt ich współpracy przeszedł najśmielsze oczekiwania. Doskonały puls, jakże ważny w czarnej muzyce soul i r&b, świetnie nagrany fortepian momentami improwizującego Grzegorza "Jabco" Jabłońskiego i wiele brzmieniowych smaczków robią duże wrażenie.
Tytułowe "odcienie/barwy miłości" to motyw przewodni płyty, który objawia się w każdej z kolejnych kompozycji, nie tylko zresztą w warstwie tekstowej.
Motyw utrzymanego w średnim tempie Gaze przypomina Life's What You Make It grupy Talk Talk. Przeważają na płycie bal­lady: By Your Side, Shades of Love, Kef, Witch (której nie powstydziłaby się sama Esperanza Spalding). City of Music jest ultra przebojowy i taneczny (wielkie brawa za partie instrumentów dętych). Na deser otrzymujemy trzy kompozycje dla fanów jazzowej strony twórczości Ani: N.G.S. (Not Gonna Stop), liryczna Gdzie jest ta miłość, w której fantastycznie zagrał Marcin Wasilewski, a w Kiss Me czaruje rozimprowizowany Adam Bałdych.
Warto podkreślić wkład Macieja "Envee" Golińskiego – muzyka, kompozytora, producenta i didżeja. Bardzo dużo wniosła też do tego projektu plejada muzyków, takich jak Piotr Żaczek, Robert Luty, Damian Kurasz, Katarzyna Dereń, Irena Kijewska, Maciej Kociński, Darek Plichta, czy Kuba Waszczeniuk.
Amerykańskie brzmienie płyty to zasługa masteringu, za który odpowiadał Chris Athens, ten sam, który masterował albumy takich artystów jak Erykah Badu, India Arie, N.E.R.D, Kelis, Usher, Common, Talib Kweli, Cassandra Wilson, Notorious B.I.G., czy Chris Brown. ---Adam Dobrzyński, jazzforum.com.pl
download (mp3 @320 kbs):
yandex mediafire uloz.to cloudmailru gett