Brathanki - Brathanki grają Skaldów (2011)
Brathanki - Brathanki grają Skaldów (2011)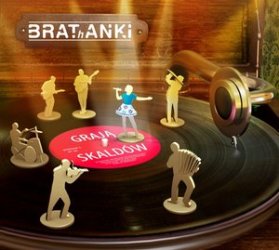 1. Na wirsycku 3:19
2. Od wschodu do zachodu słońca 3:14
3. Wszystko mi mówi, że mnie ktoś pokochał 2:29			play
4. Juhas zmarł 2:36
5. Nie widzę ciebie w swych marzeniach 4:05
6. Malowany dym 3:21
7. Medytacje wiejskiego listonosza 3:13					play
8. Pójdę do nieba 4:32
9. Dwudzieste szóste marzenie 3:28
10. Króliczek 2:29
11. W żółtych płomieniach liści 5:38

Na muzycznym szlaku autorów niezapomnianych "Czerwonych korali" pojawili się ostatnio Skaldowie. Wrażliwość i zainteresowanie muzyką folkową i rockową to nić porozumienia, która połączyła oba zespoły.
Brathanki w odświeżonym składzie (nowa wokalistka Agnieszka Dyk i gitarzysta Wiktor Tatarek) wybrały i zaaranżowały najpiękniejsze utwory Skaldów. To ukłon w kierunku twórczości tego znakomitego zespołu, który nieprzerwalnie od 46 lat dostarcza wzruszeń, tworząc i śpiewając piosenki, które przeszły do historii muzyki rozrywkowej.
W ostatnim utworze wraz z Agnieszką Dyk zaśpiewał gościnnie Jacek Zieliński.
download:   uploaded ziddu 4shared divshare gett
Last Updated (Saturday, 05 January 2013 11:01)