Mazowsze, Śląsk - Kolędy Christmas Carols (1995)
Mazowsze, Śląsk - Kolędy Christmas Carols (1995)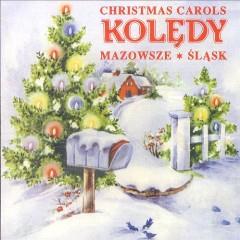 1 	–Mazowsze 	Bóg Się Rodzi (The Lord Is Born) 	4:05
2 	–Mazowsze 	Wśród Nocnej Ciszy (In The Stillness Of The Night) 	3:45
3 	–Mazowsze 	Przybieżeli Do Betlejem (They Hastened To Bethlehem) 	2:25
4 	–Mazowsze 	Jezus Malusieńki (Baby Jesus) 	3:35
5 	–Mazowsze 	Lulajże Jezuniu (Hush, Little Jesus) 	7:30
6 	–Mazowsze 	Z Narodzenia Pana (Since Our Lord Was Born) 	3:20
7 	–Mazowsze 	Dzisiaj W Betlejem (Today In Bethlehem) 	3:30
8 	–Mazowsze 	Anioł Pasterzom Mówił (The Angel Said Unto The Shepherds) 	2:25
9 	–Mazowsze 	Gdy Się Chrystus Rodzi (When Christ Is Born) 	4:05
10 	–Mazowsze 	Mędrcy Świata (Wise Men Of The World) 	4:05
11 	–Mazowsze 	Gdy Śliczna Panna (When The Lovely Virgin Mary) 	7:10
12 	–Mazowsze 	Bracia Patrzcie Jeno (O Look, Brethren) 	3:05
13 	–Śląsk 	Cicha Noc (Silent Night)    Solo Vocal – Izabela Binek	2:30
14 	–Śląsk 	Pójdźmy Wszyscy Do Stajenki (Let's All Go To The Stable) 	2:20
15 	–Śląsk 	Mizerna Cicha (Meek And Mild)    Solo Vocal – Daniela Jaskółka	2:30
16 	–Śląsk 	O Gwiazdo Betlejemska (The Star Of Bethlehem)    Solo Vocal – Leszek Kusiński	4:00
17 	–Śląsk 	W Żłobie Leży (Lying In The Manger)    Solo Vocal – Eugeniusz Jasiński	4:00


For as long as I can remember, this CD has been considered the # 1 Polish Christmas CD, and it still is.
The two most popular Polish folk singing groups, Mazowsze and Slask, lend their voices to traditional Polish Koledy (Carols), with beautiful orchestration, echoing the rhythms of the Polonaise, Mazur, Kujawiak, and Krakowiak, Poland's national dances.
Of course, both Mazowsze and Slask have since released other Christmas albums, including Mazowsze's new "Koledy Polskie" (a re-issue of their rare Koledy i Pastoralki CD), which is a bit more folksy than the orchestral CD listed here, but if you are experiencing Polish Carols for the first time, this is the CD to go with.
Polish Koledy first appeared in the 15th century. A large number of them were written during the Baroque period, and by the 17th century, the number of Polish Carols was immense, with a greater variety than any other country.
Polish composers and folk writers were not concerned that Bethlehem was nothing like the snowy mountain region of Zakopane, or that the shepherds did not have Polish names, but those are the images that these songs evoke. Koledy (carols) are an integral part of Polish heritage. ---Dejah Thoris, amazon.con
download (mp3 @320 kbs):
yandex mediafire ulozto gett bayfiles