Ankh - Expect Unexpected (2003)
Ankh - Expect Unexpected (2003)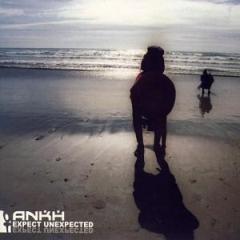 01. Expect #1 (0:53)
02. The trick (4:07)
03. Love supreme (4:30)
04. Moonlight drive (4:10)
05. Expect #2 (0:57)
06. Loop slow vocal mix (2:07)
07. On the way (3:20)
08. Never (5:57)
09. I want you (4:22)
10. Expect #3 (0:53)
11. You and me (3:54)
12. Hiding-place (4:19)
13. Escape (5:45)
14. Blue (3:59)
15. Loopfast violin mix (4:29)
16. Unexpected (0:57)

- Michal Pastuszka - guitars, keyboards, programming, backing vocals
- Piotr Krzeminski - guitars, vocals
- Krzysztof Doctor Szmidt - bass, keyboards, backing vocals
- Adam Rain - drums
- Andrzej Rajski - drums on 11, 14
- Michal Jelonek - violin voice on 15

Można powiedzieć - Ankh powraca w formie. Chociaż nieco odmieniony. Expect Unexpected to nie tylko tytuł nowego albumu, ale też zestawienie tytułów krótkich kompozycji, które otwierają i zamykają ten album. I ostrzeżenie (a może zachęta?): oczekuj nieoczekiwanego. Ostrzeżenie jak najbardziej na miejscu.
Nazwa Ankh pewnie mówi coś tylko osobom o bardzo dobrej pamięci. Pamiętam, że w 1993 roku było to objawienie: zespół pełnymi garściami czerpiący z tradycji heavymetalowego i progresywnego grania, a jednocześnie prezentujący muzykę pełną świeżości, twórczą. I na dodatek ze skrzypkiem w roli głównego solisty! Dziś - muzyków Ankh fascynują już inne muzyczne konwencje. Głównie daje się słyszeć echa techno, czasem w industrialnym, czasem w ambientowym wydaniu. Bardzo ważne miejsce w strukturze poszczególnych kompozycji zajmują syntezatorowe pętle i elektroniczne, nieziemskie brzmienia. Towarzyszy temu, oczywiście, przesunięcie na dalszy plan brzmień instrumentów akustycznych. Choć, prawdę mówiąc, syntezatory instrumentów akustycznych wcale tu nie zastępują. Słychać "żywe" bębny, bas, gitarę. Skrzypce czasem też (tylko w Loop Fast Violin Mix). Inną ważną zmianą jest pewne złagodzenie brzmienia - zwłaszcza gitar. Mniej na Expect Unexpected ostrych, heavymetalowych riffów. I śpiew jest mniej melodyjny, częściej przypomina melodeklamację. Nie osłabł natomiast sentyment muzyków Ankh do tradycji artrockowej - o ile za art. rock uznamy ostatnie produkcje King Crimson. Z tym, że zakręcone rytmicznie i melodycznie improwizacje w wykonaniu kielczan są, jak na mój gust, zdecydowanie przystępniejsze niż to, co proponuje grupa Roberta Frippa.
Członkowie Ankh funkcjonują dziś w innej niż kiedyś muzycznej rzeczywistości. Ale dawnej świeżości ich twórczość wcale nie utraciła. ---Wojciech Machała, terazrock.pl
On the new album are sixteen tracks. But the tracks "expect#1", "expect#2", "expect#3" and "unexpected" is the electronic framework of the album. These are short (all around 60 seconds) electronic soundscapes that are also unique and can't be compared to anything else. This will be a boring review to read because I often can't compare the band to other bands or music. (I know musicians don't like this, but for a reviewer it is often the best way to describe the music to the readers of their reviews). But if you think about this, it is very exiting because their music is unique and progressive. But I must warn you that this is not everybody's cup of tea. I would like to describe it as Electronic Art Rock. "the trick" (4:07) is one of my favorite tracks. It has a pulsating bass guitar, great vocal melody lines and broad electronic keyboard layers. "love supreme" (4:30) is an up tempo track with a lot of guitar sounds. Some of the guitarwork and the experimental character of this piece can be compared to King Crimson. "moonlight drive" (4:10) starts also up-tempo and complex but the band found some nice melodies and rhythms. The rhythm section and the guitar makes that this track is swinging. The electronic keyboards are woven nicely into this composition. In "loop slow vocal mix" (2:07) the band is experimenting with all kinds of electronic percussion and vocal loops. "on the way" (3:20) has again some King Crimson resemblance especially by the guitar sounds. "never" (5:57) has a nice pulsating and swinging rhythm which also stays intact as the music gets more complicated in the middle section. "I want you" (4:22) has fat and heavy guitar riffs in the first and last parts. The middle section of this track has a great rhythm change and becomes melodic. Very interesting track and one of my favorites. After "expect#3" the band follows with a catchy song full of rhythm "you and me" (3:54). "hiding-place" (4:19) is based on a guitar melody and percussion with all kind of electronic keyboard samples. "escape" (5:45) is another song with a swinging rhythm. The band slows down with the delicate ballad "blue" (3:59) in which the Polish vocals are combined with an acoustic guitar and some percussion. Last track before "unexpected" is called "loop fast violin mix" (4:29) and amazingly I discover some reggae rhythms which are combined with electric violin and keyboards.
In their previous album was more violin. Well I read that somewhere, I don't know the albums. But I would like to hear them one day because I like electronic violins. This album was a big surprise for me. The kind of Electronic Art Rock they are playing is highly original and in this way also progressive. Their music is more based on rhythm then on melody. I like all the original electronic keyboard sounds, the swinging rhythm of some tracks and the few slow melodic tracks like "the trick" that are one this album. To me Ankh's music and this album are very intriguing. If you are bored with all those Neo-Prog and retro music which is released nowadays I would like to advise you to listen to this album at your local record store. Don't buy this album without knowing their music first, unless you are the adventurous prog fan who likes surprises. Expect the unexpected! --- Douwe Fledderus, progvisions.nl
download (mp3 @320 kbs):
oboom yandex 4shared mega mediafire zalivalka cloudmailru uplea
Last Updated (Friday, 25 December 2015 13:30)