Trebunie Tutki & Voo Voo Nootki - Tischner (2007)
Trebunie Tutki & Voo Voo Nootki - Tischner (2007)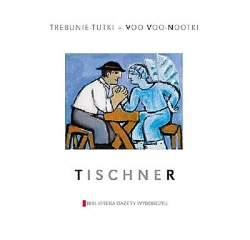 1 	Tischnera Cytanie 	
2 	Droga Wiedzie W Błękicie 	
3 	Filozofia Dramatu 	
4 	Majowe Śpiewki 	
5 	Orla Perć 	
6 	Suplikacje 	
7 	Nutko Moja 	
8 	Tischner Czyta Katechizm 	
9 	Uśmiech 	
10 	Ironia 	
11 	Nojskrytse Marzenie 	
12 	Czas 	
13 	Zagrojcie Nom - Tischnerowemu Platonowi 	
14 	Na Początku...

Trebunie-Tutki:
Władysław Trebunia-Tutka – skrzypce prym, koza, śpiew
Krzysztof Trebunia-Tutka – skrzypce prym, sekund, fujary, trombita, śpiew
Anna Trebunia-Wyrostek – basy, śpiew
Jan Trebunia-Tutka – altówka, śpiew
Andrzej Wyrostek – kontrabas, spoiw
+
Robert Czech - cymbały

Voo Voo:
Wojciech Waglewski – gitary, śpiew
Mateusz Pospieszalski – saksofony (sopranowy, altowy, barytonowy), flecik, śpiew
Karim Martusewicz – kontrabas elektryczny, bas akustyczny
Piotr "Stopa" Żyżelewicz - perkusja

Rock band and folk group paying tribute to a priest - philosopher - wanderer - Jozef Tischner.

Specjalne wydawnictwo płytowe "Tischner" z muzyką zespołu Voo Voo i Trebunie Tutki ukazało się 12 marca 2007 r. - w rocznicę urodzin ks. Józefa Tischnera. "Colloquia Tischneriana. Na chwałę Pana!" - brzmiało podczas wspólnych koncertów zespołu Voo Voo i rodzinnej kapeli góralskiej Trebunie-Tutki dedykowanych pamięci księdza profesora Józefa Tischnera. Preludium tego projektu miało miejsce 4 lipca 2006 r. w ramach 11. Festiwalu Gwiazd w Gdańsku. Kontynuacja nastąpiła jesienią 2006 - podczas 42. Studenckiego Festiwalu Piosenki w Krakowie oraz podczas V Festiwalu Wyszehradzkiego 4+ we Wrocławiu.
Głównym tematem wydawnictwa jest filozoficzna, krzepiąca myśl księdza Tischnera (w lirykach Romana Kołakowskiego i Krzysztofa Trebuni-Tutki) oraz wielokulturowe kompozycje muzyków Voo Voo (Wojciecha Waglewskiego, Mateusza Pospieszalskiego i Karima Martusewicza) i Krzysztofa Trebuni-Tutki. ---folk.pl
download (mp3 @320 kbs):
yandex mediafire ulozto gett bayfiles
Last Updated (Tuesday, 26 February 2019 15:31)