Vader ‎– Litany (2000)
Vader ‎– Litany (2000)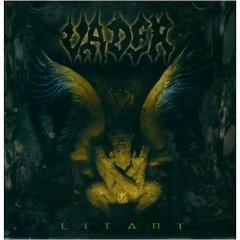 1 	Wings 	3:10
2 	The One Made Of Dreams 	1:49
3 	Xeper 	4:00
4 	Litany 	3:01
5 	Cold Demons 	3:12
6 	The Calling 	3:10
7 	North 	1:36
8 	Forwards To Die!!! 	1:38
9 	A World Of Hurt 	1:51
10 	The World Made Flesh 	2:48
11 	The Final Massacre 	4:31

Bass – Shambo
Drums – Doc
Guitars – Mauser
Guitars, Vocals – Peter

Ofensywa na całym froncie. Machina wojenna udoskonalona do granic możliwości. Potencjał broni w niezmierzonych ilościach. Moc silników, potęga stali i... nagły atak. Zaskoczenie. Ekstremum w perfekcyjnej formie. Energia, która rozsadza świadomość. Ogień!!!
Od dawna czekałem na taką płytę, która w sposób bezkompromisowy, a zarazem perfekcyjny, prezentuje tak ekstremalny przekaz. Dodatkowo cieszy fakt, że to właśnie Vader, polski zespół cieszący się dużym uznaniem na całym świecie, nagrał płytę wręcz wybuchową. "Litany" może poszczycić się produkcją i brzmieniem na światowym poziomie. I to wszystko bez konieczności nagrywania płyty poza granicami naszego kraju. Gdańskie "Red Studio" świetnie spełniło swoje realizatorskie zadanie. Od początku obcowania z nowym albumem Vader, największą uwagę zwraca piorunująco szybka gra perkusisty, która teraz przybrała wręcz nieludzki wymiar. Do tego dochodzi ściana tnących jak brzytwy gitar i potężna energia płynąca z gry całego zespołu.
Wszystkie elementy na "Litany" stanowią precyzyjnie dopracowaną konstrukcję, która poraża olbrzymim ładunkiem emocji, zaklętych w stalowe ramy. Niech Moc będzie z wami! ---Marcin Ratyński, rockmetal.pl
Maybe The first well recognized death metal band from Europe, Vader released in the year 1990 their demo "Morbid Reich" a master piece in this genre and is still considered one of the best demo tapes in death metal history, ten years after that success they released a great album called "Litany" so lets take a closer look at this one.
A great album opener "Wings" this particular song has incredible lyrics that talk about an angel that is sick of hearing all the people asking for help and at the same time killing their own god. In fact all the lyrics in this album are very clever made, Frelik has the facility of capture a feeling and convert it to the written word perfectly.
"Xeper" is the best Track in "Litany" it has the catchiest riffs in Vader history but still it sounds very brutal with nice great bass lines, it also has Egyptian influenced lyrics and I quote Vader for this matter "pronounced Khefer, it is an English coinage expressing an Egyptian verb written as a stylized scarab and meaning I HAVE COME INTO BEIGN".
"Cold Demons" is also a brilliant song with great effects, a very interesting intro, killer guitar riffs and one hell of a video (The special edition of "Litany" includes the video for this song), the drumming in every song is extremely brutal and insanely fast, so if you are a fan of high-speed drums you will love this album specially for the song "The Calling" the toms and the low parts are insane.
Metal Blade made an awesome work with signing Vader to their mayor record label, and the sound is really spectacular, I won't say "Litany" is better than "Morbid Reich" or "The Ultimate Incantation" not even than "De Profundis", this album is a one of a kind masterpiece and it deserves to be rated as an individual element in Vader history. I'll say it deserves a 9, the lack of long good leads or guitar solos is just miserable, that's the only reason why this album does not have a 10. ---Herzebeth, metalstorm.net
download (mp3 @320 kbs):