Strachy Na Lachy – Dekada (2011)
Strachy Na Lachy – Dekada (2011)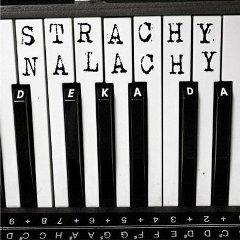 01. Strachy na lachy
02. Krew z szafy
03. BTW - mamy tylko siebie
04. Dzień dobry kocham Cię
05. Piła tango
06. Moralne salto
07. Jedna taka szansa na 100
08. Po prostu pastelowe
09. Żyję w kraju
10. Ostatki - nie widzisz stawki
11. Twoje oczy lubią mnie
12. Cygański za***
13. Raissa
14. Czarny chleb i czarna kawa
15. Chory na wszystko
16. Awangarda jazz i podziemie

    Krzysztof "Grabaż" Grabowski – słowa i muzyka, wokal
    Andrzej "Kozak" Kozakiewicz – gitary
    Mariusz "Maniek" Nalepa – gitary, instrumenty perkusyjne, flet
    Longin "Lo" Bartkowiak – bas, loopy
    Arkadiusz "Pan Areczek" Rejda – akordeon, instrumenty klawiszowe
    Rafał "Kuzyn" Piotrowiak – perkusja, instrumenty perkusyjne
    Sebastian "Anem" Czajkowski – klawisze

Idealnie się wstrzeliły Strachy z tą składanką. Sukces Dodekafonii, tytułowa dekada działalności, dobry termin wydania (październik). Wprost idealny prezent na święta dla wielbiciela krajowego rocka...
Wśród szesnastu utworów zgromadzono wszystkie najważniejsze i najpopularniejsze utwory grupy i dwa rarytasy. Z albumów "coverowych" znalazł się tu tylko jeden utwór, zresztą bodajże najpopularniejszy, Po prostu pastelowe. A poza tym hit za hitem, jak już się ten album włączy, to doprawdy ciężko się będzie od niego oderwać.
A co ze wspomnianymi cymesami? Pierwszy, to znana fanom z koncertów, nowa wersja hymnu zespołu - Strachy na Lachy. Mniej festyniarska i swojska (aczkolwiek nie zabrakło kiczowatych klawiszy), a zdecydowanie ostrzejsza, bardziej gitarowa, taneczna, brytyjska i... zdecydowanie słabsza. Głos Grabaża niknie wśród męczącego riffu (szczególnie przed refrenem), brakuje zwiewnej, radosnej imprezowej atmosfery. Zmienił się także oczywiście w jednym miejscu tekst przedstawiający członków grupy... Drugi frykas to również rzecz stara-nowa - Awangarda jazz i podziemie z tekstem jeszcze z czasów pidżamowych - utwór także ograny już na koncertach. Również drapieżny, niezwykle żywiołowy i co najważniejsze - przebojowy. Idealna rzecz na uatrakcyjnienie składanki.
Bardzo udane wydawnictwo, dodatkowy plus za gustowną okładkę. --- Maciej Wilmiński, rockers.com.pl
download: uploaded yandex 4shared mediafire solidfiles mega zalivalka filecloudio anonfiles oboom