Elzbieta Mielczarek - ElaEla (2012)
Elżbieta Mielczarek - ElaEla (2012)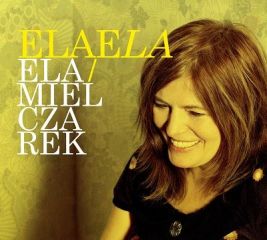 1. Mgła nad miastem
2. Kołysanka
3. Przestrzeń będzie ze mną 
4. Spacer nad jeziorem 
5. Mississippi  
6. Wyszedłeś 
7. Opowieść mam 
8. Żółty balonik
9. Zaśpiewać ci chcę

Muzycy:
Elżbieta Mielczarek - wokal
Grzegorz Kapołka - gitara
Darek Ziółek - gitara basowa
Andrzej Ryszka - perkusja
oraz:
Mirek Rzepa - gitary
Leszek Winder – gitara

"ElaeLa" to nowa autorska płyta Pierwszej Damy Bluesa, Elżbiety Mielczarek. Artystka w latach 80-tych, będąc u szczytu popularności, zniknęła nagle ze sceny, by teraz pojawić się na niej na nowo w wielkim stylu i w znakomitym towarzystwie.
Wszystkie utwory to autorskie kompozycje Elżbiety Mielczarek, z wyjątkiem "Kołysanki" (Django Reinhardt) oraz "Opowieść mam" (Andrzej Ryszka). Również teksty na płycie, z wyjątkiem "Kołysanki" i "Mississippi" (Marek Kreutz) są autorstwa Elżbiety Mielczarek. Nagrań dokonano w dniach 15-21 listopada 2011 w studiu MAQ w Wojkowicach.
Artystka od tego czasu pojawia się sporadycznie i okazjonalnie na różnych koncertach wykonując niektóre z piosenek znajdujących się na krążku. Jedną z okazji usłyszenia Eli Mielczarek na żywo w roku 2012 był jubileuszowy koncert Nocnej Zmiany Bluesa w poznańskim klubie Blue Note 19 lutego 2012. Wówczas to można było wysłuchać wykonania a capella utworu: ''Uśmiech przez sen'', słynną ''Poczekalnię PKP'', oraz dwie premierowe piosenki z zapowiadanej dopiero wówczas płyty i przekonać się tym samym iż Ela Mielczarek jest w doskonałej formie a jej charakterystyczny, tak pięknie bluesowo brzmiący głos robi nadal ogromne wrażenie.
download:   uploaded 4shared mediafire ziddu divshare gett