Kombi – '79 – '81 (1992)
Kombi – '79 – '81 (1992)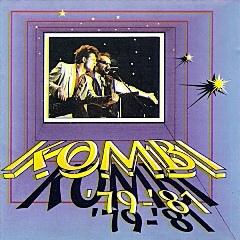 01. Nie ma nic 03:30
02. Jesteś wolny 04:24
03. Słodka jest noc 04:57
04. Smak wina 07:20
05. Bez ograniczeń 05:18
06. Teleniedziela 04:05
07. Ostatnie safari 04:35
08. Królowie życia 04:31
09. Piękna, szalona 04:19
10. Leniwe sny 04:11
11. Oczekiwanie na odlot 06:17
12. Wspomnienie z pleneru 04:03
13. Hotel twoich snów 03:49
14. Przytul mnie 04:48

Kombi was a successful pop rock music band from Poland, founded in 1976 in Gdańsk by Sławomir Łosowski. In the beginning group played mostly rock music, later their style turned towards synth pop.
The band was known for its characteristic sound, based on state-of-the-art electronic instruments programmed (and often modified) by Łosowski, distinctive vocals and guitar playing by Skawiński and Tkaczyk's bass slapping style.
Kombi was the first Polish band to use Commodore 64 as a MIDI sequencer, Yamaha DX-7 synthesizer, Simmons SDS-V electronic drum kit and Yamaha RX-11 drum machine. They are also the only Polish band (as of 2006) to tour the United States three times, bringing all their equipment with them.
The band split up in 1992 after disagreements about the future direction of the band.
In 2002, Skawiński, Tkaczyk and Pluta re-formed as Kombii without Łosowski, with new keyboardist Bartosz Wielgosz. ---discogs.com
download (mp3 @320 kbs):
yandex 4shared mega mediafire cloudmailru uplea
Last Updated (Sunday, 10 July 2016 21:22)