Anna German - Wiatr mieszka w dzikich topolach 1971 (2001)
Anna German - Wiatr mieszka w dzikich topolach 1971 (2001)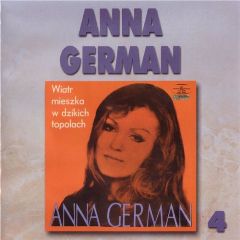 1. Wiatr mieszka w dzikich topolach       play
2. A my dla siebie
3. Trzeba nam się pospieszyć
4. Taka prawda nieprawdziwa
5. Warszawa w różach
6. Cztery karty
7. Kochaj mnie taką jaką jestem
8. Być leśną jagodą
9. Za siedmioma morzami
10. A może jednak pamiętasz
11. Tańcz dziewczyno

Bonus tracks (1972-73):
12. Górnik zabrze (1972)
13. Byle tylko ze mną (1973)
14. Nie jestem taka jak myślisz (1973)    play
15. Jedna chwila wystarczyła (1973)
16. Jak to będzie z nami (1973)

Anna German, od 1972 r. Anna German-Tucholska (ur. 14 lutego 1936 w Urgenczu w Uzbekistanie, zm. 25 sierpnia 1982 w Warszawie) – polska piosenkarka i kompozytorka, aktorka, z wykształcenia geolog. Śpiewała w siedmiu językach. Występowała w USA, Kanadzie, Wielkiej Brytanii, Australii, Francji, Portugalii, Włoszech, na Węgrzech, Mongolii, dawnych NRD, RFN, CSRS, oraz ZSRR.
Laureatka festiwali m.in. w Monte Carlo, Wiesbaden, Bratysławie[1], San Remo, Neapolu, Viareggio, Cannes, Ostendzie, Sopocie, Opolu, Kołobrzegu, Zielonej Górze. Dwukrotnie uznana za najpopularniejszą polską piosenkarkę wśród Polonii amerykańskiej (1966, 1969). Zdobywczyni złotej płyty za longplay "Człowieczy los" (1972 r.).
Anna German (February 14, 1936 – August 26, 1982) was a popular Soviet-born Polish singer of German/Dutch origin. Anna German was born in Urgench, a city with a 22-thousand population in northwestern Uzbekistan, USSR. Her mother, Irma Martens, was the descendent of Dutch Mennonites invited to Russia by Catherine II. Her father, Eugeniusz Hörmann, was an accountant of German descent, born in Łódź, Poland. In 1937 he was executed by the NKVD in Urgench on the charges of spying. Anna and her mother were deported to Kyrgyzstan. In 1946 she with her mother, who married a Armia Ludowa officer, settled in Nowa Ruda, before moving to Wrocław in 1949. Anna graduated from the Geological Institute of Wroclaw University. During her university years, she began her music career at the Kalambur theater. Anna finally became successful when she won the 1964 II Festival of Polish Songs in Opole with her song Tańczące Eurydyki. One year later, she placed first in the international song contest in Sopot. She was invited to perform in Italy in the prestigious Sanremo Music Festival in 1967. In Italy Anna German survived a hard car crash, and fully came back to the stage only in 1972, after a long rehabilitation period.
On March 23, 1972, she married Zbigniew Tucholski. They were both members of the Seventh-day Adventist Church. On November 27, 1975 their son, Zbigniew, was born. Anna performed in the Marché international de l'édition musicale in Cannes, as well as on the stages of Belgium, Germany, USA, Canada and Australia. In the last years of her life she composed some church songs. She died in 1982 from cancer and was buried in Warsaw. Anna German was immensely popular in Poland and in the Soviet Union. She released over a dozen music albums with songs in Polish, as well as several albums with Russian repertoire. She also sang in English, Italian, Spanish, Latin, and German. In 2001 six of her Polish albums were reprinted on CDs. In recent years many compilation albums of her songs have also been released in both Russia and Poland.
download: uploaded anonfiles yandex 4shared solidfiles mediafire mega filecloudio
Last Updated (Monday, 11 November 2013 20:51)