Sztywny Pal Azji - Europa i Azja (1987)
Sztywny Pal Azji - Europa i Azja (1987)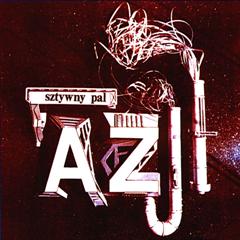 1.    "Twoja imitacja" – 3:17
2.    "Spotkanie z..." – 3:25
3.    "Budujemy grób dla faraona" – 4:03
4.    "Nic pewnego" – 2:37
5.    "Rock'n'rollowy robak" – 2:53
6.    "...póki młodość" – 2:22
7.    "Nieprzemakalni (I)" – 2:57
8.    "To jest nasza kultura" – 4:54
9.    "Przybycie Makbeta" – 5:03
10.   "Proces" – 2:51
11.   "Kurort" – 2:56
12.   "Wieża radości, wieża samotności" – 4:56
13.   "Europa i Azja" – 2:07
14.   "Walczyk o Krakowie" – 3:25
15.   "Nasze reggae" – 3:47
16.   "Ja muszę" – 3:57

Muzycy:
    Jarosław Kisiński – gitara, gitara akustyczna, chórki
    Leszek Nowak – fortepian, śpiew, chórki
    Paweł Nazimek – gitara basowa, chórki
    Janusz Deda – perkusja
    Zbigniew Ciaputa – konga
    Andrzej Turek – gitara akustyczna
+
    Ryszard Wojciul – saksofon (8, 10)

Lead by singer Leszek Nowak and guitar player Jarosław Kisiński, Sztywny Pal Azji was one of the key bands of that second Polish post-punk movement which I mentioned recently (just think to Róże Europy, Ziyo, Kult, and so on).
This is their debut album, and it contains a dozen of eclectic songs which mix a loud new wave sound with unplugged arrangements (piano, acoustic guitars, congas), sometimes recurring to a bit of rock&roll energy. Faster songs emanate the choral sense of power pop, while the slower ones are soaked by an epic atmosphere, both decadent and romantic (they kinda remind me to the British martial folk movement which was coming out at the same time).
"Europa i Azja" was a mainstream success in Poland, with epic songs such as "Wieża radości wieża samotności" (transl. "Tower of joy, tower of solitude") and "Spotkanie z..." (also known as "Nie gniewaj się na mnie Polsko", transl. "Don't be angry with me, Polish") reaching respectively no. 1 and no. 2 in the LP3 chart. They both remain two of the most popular songs of the Eighties there. Other notable moments include "Przybycie Makbeta" (five minutes of absolute darkness), "Twoja imitacja" (with its rhythmic whirlwind), and "Kurort" (a chameleon punk-folk operetta).
Sztywny Pal Azji to zespół, który debiutował ponad dwie dekady temu na festiwalu w Jarocinie, rok później ukazała się pierwsza płyta "Europa i Azja". Entuzjastycznie przyjęta, z perspektywy czasu jest to jedna z najciekawszych pozycji w dyskografii polskiego rocka lat 80. Dziś trudno albumy takie jak ten, których można po prostu posłuchać od początku do końca. Charakterystyczne brzmienie gitar, wstawki, a nawet całe solówki na klawiszach oraz znakomita sekcja rytmiczna, na którą składa się wyrazisty bas uzupełniający wyciszony rytm perkusji. Wszystkie te elementy doskonale współgrają z wokalem Leszka Nowaka. Warto również wspomnieć o tematyce tekstów, które powstawały w odmiennym systemie politycznym. Płyta dotyka różnorodnych tematów, w niespotkane dotąd sposób. Skierowana jest do ówczesnej młodzieży, zmusza do refleksji nad zastaną sytuacją i systemem wartości. Na płycie znajdziemy piosenki o unikalności jednostki ("Twoja imitacja", "Nieprzemakalni I"), niepowtarzalność chwili ("Nic pewnego", "...Póki młodość w nas"), winie i karze ("Przybycie Makbeta", "Proces"), poszanowaniu własnego domu ("Rock'n'rollowy robak"), zastanym systemie wartości ("To jest nasza kultura", "Kurort", "Budujemy grób dla faraona"), spóźnionej miłości do ojczyzny ("Spotkanie z...") czy nadziei na lepsze jutro ("Wieża radości, wieża samotności") Całość, choć niedawno skończyła 20 lat, nadal pozostaje aktualna i warta polecenia, każdemu młodemu człowiekowi kształtującemu swój światopogląd. --- wpmt.pl
download:   uploaded anonfiles mega 4shared mixturecloud yandex mediafire ziddu