Chlopcy z Placu Broni - Polska (2000)
Chłopcy z Placu Broni - Polska (2000)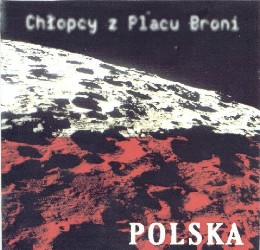 01. Kosmos 2018						play
02. Pocztówka z Krakowa				play
03. Staszek
04. Huragan
05. Nie mów nie
06. Boję się chłodnego lata
07. Teraz i na zawsze
08. Będę kochał Cię jak Bóg
09. Zmień się sam
10. Podatki
11. Superglina
12. Niepodległość
13. Piosenka piłkarska
14. Ostatnie solo
15. Jesteś śliczna
16. Nie chciałem śpiewać tej piosenki
17. Kocham Cię
18. Karmelicka 17/8

Muzycy:
Piotr Dariusz Adamczyk "Franz Dreadhunter"
Andrzej Bańka
Bogdan Łyszkiewicz
Mateusz Misior

That's very surprising but nationalistic ideology breaks into the music main stream! A certain rock band, which has been present in media for years and mostly singing about nothing, released the long play with lyrics similar to the ones of Legion. "Now I'm saying it loud / I'm longing for Poland before partitions / for Poland from the sea to the sea / the Great Crown golden from grain of Ukraine (...) / Somebody must remind what the common spirit is / to revive the national myth / the myth of might, power, health and strength (...)" - This is the part of the song called "Independence" and such elements are more. Close to them there are also a dozen or so pop-rock songs touching more or less important things. The important feature of this record is the voice of Bogdan Łyszkiewicz. Besides he was the author of all lyrics and music. "Poland" is the last stuff he has released because after recording this album he died in a car accident. Listening to "Poland" there's fear to think what would have happened if Bogdan had released the next album. But we shouldn't go mad with happiness: it must be admitted that the album is a curiosity. In the matter of lyrics one can find a few serious contradictions. We also shouldn't forget that this band didn't plan their escape towards the identical scene because such an action doesn't bring any commercial profit for bands. Chłpopcy z Placu Broni was a commercial group to the end of their existence. It makes such results: excellent production and publication of the album with low artistic values and feeble music and vocal are the naked truth about the state of Polish commercial music. Although we should be glad that even there the national elements can be existed. And nothing more Chłopcy z Placu Broni "Polska". --- Pomaton-EMI/Scena FM 2000.
Chłopcy z Placu Broni to polski zespół rockowy. Grupa została założona w 1987 roku przez Bogdana Łyszkiewicza (ur. 3 września 1964 w Krakowie, zm. 23 czerwca 2000). Nazwa zespołu nawiązuje do książki Chłopcy z Placu Broni autorstwa Ferenca Molnara.
Członkami grupy byli m.in.: Jarosław Kisiński (gitara), Jacek Królik (gitara), Piotr Kruk (gitara), Piotr Dariusz Adamczyk "Franz Dreadhunter" (gitara basowa), Wojciech Namaczyński (perkusja). Łyszkiewicz był zarówno kompozytorem i wokalistą, jak i tekściarzem. Najczęstszym tematem pisanych przez niego utworów była miłość. Historię powstania nazwy Łyszkiewicz przedstawił w słowach: "Jeździliśmy długo autobusem z basistą Waldkiem Raźnym i każda kolejna wymyślona przez nas nazwa wywoływała u nas parkosyzmy śmiechu. Pewnego dnia żarty się skończyły, bo zadzwonił menedżer, który poinformował nas, że będziemy grać koncert i trzeba było wymyślić nazwę. Dlatego rzuciłem coś bez zastanowienia".
Zespół Chłopcy z Placu Broni odniósł ogromny sukces już w rok po założeniu. W 1988 roku grupa została uhonorowana II nagrodą na Festiwalu Muzyki Rockowej w Jarocinie, na którym zagrała dzięki rekomendacji Kory z zespołu Maanam. Pierwsze profesjonalne nagrania Chłopcy z Placu Broni zawdzięczają jednak Bożenie Sitek z Rozgłośni Harcerskiej. Podczas tej debiutanckiej sesji zespół nagrał piosenkę "Aeroplan" oraz największy przebój "O! Ela". O sztandarowym utworze Łyszkiweicz powiedział w 1992 roku w wywiadzie dla "Gazety Krakowskiej". - "Ela" była dowcipem, żartem, ale tzw. fachowcy potraktowali to bardzo poważnie. Mnie wzięli za faceta, który przeżył w życiu poważny szok i będąc jak najbardziej szczery opisał swoje przeżycia- śmieje się Łyszkiewicz. - Był to żart, przy pomocy którego można było zarobić i pobawić się.
Debiutancka płyta zatytułowana "O! Ela" ukazała się w 1990 roku nakładem wydawnictwa Polton. W nagraniu, którego dokonano na początku roku w studiu w Izabelinie, udział wzięli: Łyszkiewicz, Wojciech Namaczyński (perkusja), Paweł Nazimek (syntezator), Marek Siegmund (gitara) i Krzysztof Zawadka. Na płycie znalazły się m.in. piosenki "Kiedy już będę dobrym człowiekiem" i "Chory kraj" oraz utwór do tekstu Wiesława Dymnego "Chwalcie potęgę pieniądza". - Pamiętam zdarzenie, gdy spacerując po Krakowie w okolicy Rynku zauważyliśmy Annę Dymną - wspominał Zawadka. - Pracowaliśmy wówczas nad pierwszą płytą Chłopców z Placu Broni i "na tapecie" była muzyka z fragmentami wiersza Wiesława Dymnego. Bogdan "bez pardonu" ruszył do akcji. Pięknie nas przedstawił i w kilku słowach wyłożył sprawę. Pani Anna nie zastanawiając się ani chwili wyraziła zgodę na użycie tekstu jej męża.
Druga płyta "Krzyż" (1991) została zarejestrowana w Krakowie w Teatrze Stu. Nagrywali ją: Łyszkiwicz, Namaczyński, Piotr Kruk (gitara) i Piotr Dariusz Adamczyk "Franz Dreadhunter" (gitara basowa). Chłopcy z Placu Broni wykorzystali tym razem teksty innego poety, Rafała Wojaczka. Dwa kolejne albumy powstały dla wytwórni MJM Music, późniejszej Sony Music Polska, co zapewniło wydawnictwu należytą promocję a tym samym sprzedaż przekraczającą 100 tysięcy egzemplarzy. W nagraniu wydawnictwa "Kocham Cię" (1993) Łyszkiewicza, Adamczyka, Jacka Królika (gitara) i Artura Marlika (perkusja) wsparli m.in. Jan Borysewicz, John Porter i Kostek Yoriadis. Płyta cieszyła się sporym powodzeniem. Podobnie jak kolejna, zatytułowana "Piosenki dla dzieci od lat 5 do 155" z 1994 roku. W latach 90. Chłopcy z Placu Broni często grali koncerty w klubach polonijnych w Stanach Zjednoczonych.
W 1995 roku zespół nawiązał współpracę z wytwórnią Koch Interntional, dla której nagrali dwa albumy: "Uśmiechnij się" (1995), w składzie Łyszkiewicz, Adamczyk, Królik, Siergiej Pieriekriestov (gitara) i Grzegorz Schneider (perkusja) oraz "Gold" (1998) w składzie Łyszkiewicz, Adamczyk, Malik, Królik i Jarosław Kisiński (gitara). W 2000 roku nakładem wytwórni Sony Music Entertainment ukazała się płyta "Gwiazdy spadają z nieba" a wytwórnia Scena FM/Pomaton EMI wydała album "Polska".
W tym samym 2000 roku Bogdan Łyszkiewicz zginął w wypadku samochodowym, co zakończyło działalność zespołu. W jednym z ostatnich wywiadów lider Chłopców z Placu Broni powiedział: "Wydaje mi się, że bardzo wiele tracą ci ludzie, którzy wstydzą się swoich uczuć albo też nie potrafią ich wyrazić, nazwać". --- muzyka.wp.pl
download (mp3 @320 kbs):
yandex 4shared mega mediafire zalivalka cloudmailru oboom uplea
Last Updated (Tuesday, 17 November 2015 23:17)