Martyna Jakubowicz & Zona Lota - Okruchy zycia (2010)
Martyna Jakubowicz & Żona Lota - Okruchy życia (2010)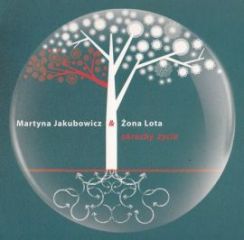 1.Li Bai
2.Niech płonie
3.Ten wieczór spędzę w domu
4.Śpiewam, lecz brak mi słów	play
5.Mam dary boże
6.Pan Kasa
7.Nie tylko ja jedna
8.Anty-kolęda
9.Co znaczy osobno		play
10.Awram, ojciec twój
11.Lorca jest snem
12.Handel słowami

Skład:
Martyna Jakubowicz-gitara, wokal
Paweł Mikosz – gitary basowe
Darek Bafeltowski – gitary, mandolina
Łukasz Matuszyk- akordeon, keyboard
Przemek Pacan – perkusja, cajon
Goście:
Marcin Pospieszalski- cymbały rzeszowskie, skrzypce
Thomas Sanchez – instrumenty perkusyjne

Od 4 lat Martyna Jakubowicz pracuje z zespołem Żona Lota i z nimi nagrała tę nową płytę zatytułowaną "Okruchy życia".
Jak sama mówi:
"Nie mogę jakoś dołączyć do nurtu radosnej konsumpcji, pełnej podrygiwania w takt cudownych rytmów ymc,ymc, gdzie pokłony bije się pełnemu portfelowi. Nie przemawiają do mnie słowa trendy ani jazzy. Nie lansuję się zbytnio, więc płyta nie jest lanserska. Nie jest też pewnie trendy i nie nabije nam "kabzy", i w związku z tym nie będziemy obrzydliwie bogaci. Nie jest to istotne, bo mieliśmy kupę frajdy pracując nad nią. Żyjemy w wolnym kraju i mogę sobie pozwolić na swobodną wypowiedź, dlatego płyta jest właśnie taka".
To jest płyta do słuchania i smakowania. Trzeba jej poświęcić czas...
download:  uploaded 4shared ziddu divshare gett
Last Updated (Tuesday, 08 January 2013 21:41)